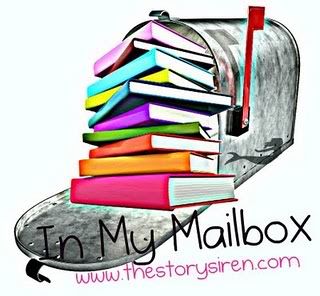 In My Mailbox is a weekly meme created by
The Story Siren
to share whatever books and bookish goodies that you've bought, borrowed, won, or been gifted and have thus entered your home the previous week. You can show off books that you are excited about and it's also a great opportunity to showcase books that you may not actually have the time to read or review.
Here's what came into my home this past week:
The Last Blind Date
A fun, charming memoir about a woman who falls in love, packs her bags, and starts over in the city that eats its young.
The Leftovers
What if—whoosh, right now, with no explanation—a number of us simply vanished?  Would some of us collapse? Would others of us go on, one foot in front of the other, as we did before the world turned upside down?
That's what the bewildered citizens of Mapleton, who lost many of their neighbors, friends and lovers in the event known as the Sudden Departure, have to figure out. Because nothing has been the same since it happened—not marriages, not friendships, not even the relationships between parents and children.
Kevin Garvey, Mapleton's new mayor, wants to speed up the healing process, to bring a sense of renewed hope and purpose to his traumatized community. Kevin's own family has fallen apart in the wake of the disaster: his wife, Laurie, has left to join the Guilty Remnant, a homegrown cult whose members take a vow of silence; his son, Tom, is gone, too, dropping out of college to follow a sketchy prophet named Holy Wayne.  Only Kevin's teenaged daughter, Jill, remains, and she's definitely not the sweet "A" student she used to be.  Kevin wants to help her, but he's distracted by his growing relationship with Nora Durst, a woman who lost her entire family on October 14th and is still reeling from the tragedy, even as she struggles to move beyond it and make a new start.
With heart, intelligence and a rare ability to illuminate the struggles inherent in ordinary lives, Tom Perrotta has written a startling, thought-provoking novel about love, connection and loss.
Bought:
It's just a small story really, about among other things: a girl, some words, an accordionist, some fanatical Germans, a Jewish fist-fighter, and quite a lot of thievery. . . .
Narrated by Death, Markus Zusak's groundbreaking new novel is the story of Liesel Meminger, a young foster girl living outside of Munich in Nazi Germany. Liesel scratches out a meager existence for herself by stealing when she discovers something she can't resist- books. Soon she is stealing books from Nazi book-burnings, the mayor's wife's library, wherever they are to be found.
With the help of her accordion-playing foster father, Liesel learns to read and shares her stolen books with her neighbors during bombing raids, as well as with the Jewish man hidden in her basement.
For Review:
When full-figure dress designer and candy addict Cookie Berelli discovers the PI she hired to clear her of embezzlement charges dead in her design studio, she investigates, to wacky results. For example, is Eugene Gemstone involved? After all, he is her number one fabric cutter at Florida Fashions, and he did start acting overemotional after he wore one of the dresses she designed into the ladies' room at Chez Riso and got arrested. He's especially suspect now that he's disappeared with all of Cookie's candy stash. Then again, it could be that cute PI, Andy Shea, who shows up at the funeral of her dead PI, and makes her hear the love song from GONE WITH THE WIND in her head, or it could be just about anyone else on the planet.
Everyone's starting to look suspicious now, especially Yuri Yarutski, who owns a sports bar in the bad part of town and wants to go a few rounds with Cookie, the woman who lives in a tree (who in Florida can live withoutair conditioning?), and even Bernadette Humphreys of Bernie's Tattoos who comes up with the weirdest body art. Okay, yes, Cookie did find the body, in fact two of them,and so she has to clear herself, but does that mean the murderer has to go after her?
For Review from Netgalley (All September catch up):
Witches
Night Night Blessings
The Sweetest Thing
You Are My Only
Everything We Ever Wanted: A Novel
Seers (Seers – Trilogy)
Irish Lady
Until There Was You (Hqn)
Secrets
Content ©2011-2013 Melissa's Eclectic Bookshelf ~ ~
If you are reading this anywhere other than Melissa's Eclectic Bookshelf, a feed reader, or via email subscription, then this content has been stolen.