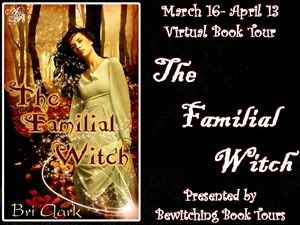 I am happy to have Bri Clark here today to chat with me:)  She is also offering an awesome giveaway so make sure that you read to the bottom!
(If you are on the home page and can't see the Giveaway either click on the post title or "read more" at the bottom to go to the individual post's page!) 

1) Welcome Bri:) Thanks for joining us!
  Hun you are most welcome.
2) Please tell us a little bit about yourself.
 I'm a southern belle transplanted to Boise ID. After moving here I got the nickname "The Belle of Boise". I ended up building my whole platform around it. I'm a reviewer, author, speaker, literary strategist, mother, wife, sassafrass…
3) Can you tell me a little bit about The Familial Witch and what inspired it? 
 That's a great story in that. I wrote another novel and was doing some character building with nothing I planned on publishing and bomb I started a whole new series. Initially, Aisleen was a banshee who had been raped and was just plain pissed. Now she is this witch with unending kindness even for her greatest enemy.
4) What do you hope that readers take way with them after reading your book? 
 The Familial Witch is a novella. I have a pattern of starting new series with novellas for two reason.
        A. I am a woman with an appetite. Therefore, appetizers are always my favorite. I want to whet the readers palette with a taste of this new creation I've concocted.
        B. Reader reaction is how I measure what is right and wrong in story. While I do let the characters create the novel it's important to know what the readers are connecting with…what they feel passionate about. Whether they hate the villain or think the heorine is too weak. This guides for the rest of the series.
5) I find it interesting to know what environment authors find most productive… Do you use a pen and paper or laptop? Quiet room at home or bustling café? Basically, what gets your creative juices flowing?
 I do not write in novels daily. Sometimes not for weeks. However, I'm a constant blogger, plotter and reader. When sit down to write it's usually on my bed on my laptop and 8 hours later I'll have 10,000 words.
6) What has been the toughest criticism given to you as an author? What has been the best compliment? The best compliment are my reviews. The worst criticism was from my sister in law. She just chewed up my grammar. Now granted it wasn't in a novel it was a blog post I had done but she really hurt my feelings in a very public way. I need editors. I never dreamed I didn't.
7) What book is currently on your nightstand? And who are some of your favorite authors?
 Stephanie Laurens, Hannah Howell, Jeanine Frost, Right now theres about 200 in my Kindle and 4 paperback of Hannah Howell's Wherelock series.
8) What do you like to do when you're not writing? 
 Reading. I'm a damn ferocious reader.
9) Do you have any advice for aspiring writers? 
 The best thing you can do for you career is right a shit load of books. Backlist baby backlist
10) What can we expect from you next? 
 The Eternal Witch release in a few months and it's a full length novel sequel to The Familial Witch.

Lucien Lemione the clan leader of the feared and revered Eternals is faced with the ultimate betrayal. His second in command for two centuries has not only created the most grievous of offenses but also commissioned the creation of liquid silver. When poisoned by this toxin, an immortal suffers a fate much worse than death, frozen in an internal prison. After being wounded when found spying, he hides deep within the eerie woods that encircle the Triad Mountains. Desperate and in pain, he prays to an offended mother goddess for help. Her answer: a woman, but not just any woman. A witch. 
After losing her entire coven at the hands of the Eternals, Aisleen is the last of her kind. She retreats from the world to Trinity Forest where she is giving the opportunity of a lifetime, or perhaps a test of principles. It's there she discovers the man she heals is the Eternal that wiped out her people. Although she is bound as a healer, she could be creative in her revenge. Aisleen knows who and what Lucien his…but does not speak of it. There can be no future with Lucien for she can only be with a mortal man. Even if she wanted to be with him, can she forgive the man that caused the genocide of her people? 
Lucien must act quickly for the survival of his clan is at stake. However, Aisleen's ethereal beauty and emerald eyes keep pushing those thoughts far from his mind. Determined to find out what secret she hides, he prolongs his time with her. When his people need him most what will he choose…duty, desire, or will he make his own fate? 
You can choose love but you can't choose destiny.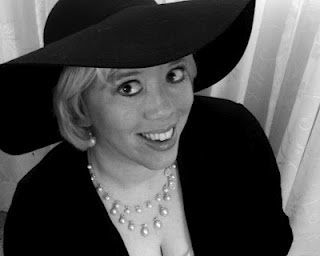 Bri Clark is a real example of redemption and renewal.  Growing penniless in the South, Bri learned street smarts while caring for her brother in a broken home.  She watched her mother work several jobs to care for their small family.  Once her brother could fend for himself, Bri moved on to a series of bad choices including leaving school and living on her own.
Rebelliousness was a strong understatement to describe those formative years.  As a teenager, her wakeup call came from a fight with brass knuckles and a judge that gave her a choice of shaping up or spending time in jail.  She took that opportunity and found a way to moved up from the streets.  She ended up co-owning an extremely successful construction business.  She lived the high life until the real estate crash when she lost everything.
She moved west and found herself living with her husband and 4 kids in a 900 square foot apartment.  She now fills her time, writing, blogging, leading a group of frugal shoppers and sharing her southern culture.  Her unique background gives her writing a raw sensibility.  She understands what it takes to overcome life's obstacles.   She often tells friends, "I can do poor.  I'm good at poor. It's prosperity that I'm not used to."
Bri and her husband Chris live in Boise.  Bri is known as the Belle of Boise for her true southern accent, bold demeanor and hospitable nature.
Bri boasts several positions in the publishing industry. An author, professional reviewer, blogger, and literary strategist she enjoys all aspects of her career from the creation of story to the branding and marketing needed to make her books successful.

Bri has been kind enough to offer up an Ebook copy of the Familial Witch and an ARC in a few weeks of The Eternal Witch! Both go to one lucky winner!
 Giveaway ends April 9th! 


<a href="http://rafl.es/enable-js">You need javascript enabled to see this giveaway</a>.
Content ©2011-2013 Melissa's Eclectic Bookshelf ~ ~
If you are reading this anywhere other than Melissa's Eclectic Bookshelf, a feed reader, or via email subscription, then this content has been stolen.