The Interview
1 How do you break through a writing block?
I sit my butt down in front of the computer. I don't believe in writer's block. But I do believe in the extraordinary ability I have to be 1.) lazy and q.) distracted. Sitting down in front of the computer (and turning off the internet) fixes 99% of those problems.
Now, when I come to a sticky situation I have to figure out (like "How to Kill the Bad Guy", which I always seem to leave until the LAST MINUTE), then I go lie down and meditate about the problem. If that turns into a nap, so much the better. I often wake up with just the solution!
2 Do you read/comment on reviews of your books?
I do! I don't have a lot of time to do so anymore–and I often hear that reviewers are sometime freaked out when the author pops by unannounced–but I do have Google Alerts and Twitter searches saved with my name. (It's nice to be the only Alethea Kontis on the planet!) I appreciate every reader who takes the time to write a review. I used to be a book reviewer, both in print and online–I know how much extra energy it takes to put those thoughts into useful words.
As for the negative reviews, I think of them this way: The books that I write are kind of like a Friend Test. If you enjoy the worlds I've created, you are probably a person that I could sit down with at a party and have a lot to talk about. If you hate them, chances are, we just weren't meant to be friends. And that's totally okay.
As for the mean and nasty reviews–like the Australian teen on YouTube who insulted my mother by saying, "If you're going to have a stupid name like 'Alethea,' you just shouldn't expect anyone to be able to pronounce it" — well, those I collect so I can make my own YouTube video of them later. Because seriously…out of context and smashed all together…they're kind of awesome. Like Jimmy Kimmel's Mean Tweets videos.
( OK, Isn't Alethea awesome folks! )
3 How do you choose the names for your characters?
Well, One through Seven and Monday through Sunday were pretty easy…but I expect you mean OTHER character names. *grin*
I enjoy taking my characters' names from a little bit of everywhere. I love languages, so many are derived from foreign words (Jolicoeur (Fr.), Duke of Cauchemar (Fr.)). Some are named after real people (Sir Jon Stafford, Erik, Niall and Rhiannon, all the Kates). Some are homages to characters I loved in books as a kid (Peregrine, from M.M. Kaye's The Ordinary Princess). Some are straight from fairy tales themselves (Conrad, Elisa, Lizinia).
4 If you could live a day in the life of a fictional character, who would it be?
Oh, this is such a great question. I would love to be Ronia the Robber's Daughter, or Angharad "Harry" Crewe of Damar, or Alleluia of Samaria, or Alanna of Trebond (especially when she's kissing George). But I think my top pick would be Aeriel from The Darkangel Trilogy, by Meredith Ann Pierce. MAN I love those books.
5 What is the last book you've read?
I actually just finished re-reading Jovah's Angel by Sharon Shinn, which is why I had Alleluia on the brain. When Sharon finally signed this book for me, I had her inscribe it with, "Have fun reading this…AGAIN."
6 Aside from writing, what would your dream job be?
Marine Chemist. It's the job I was SUPPOSED to have — I majored in Chemistry with a minor in Marine Science. I wanted to be out on boats and barrier islands. Most of all, I wanted to take the Alvin down to the hydrothermal vents. I was *obsessed* with the hydrothermal vents. I even wrote them into my Little Mermaid retelling "Blood and Water."
I'll always be sort of angry with myself that I didn't work harder to continue down that path, but the Writing Force was too strong in me. I suspect it would have ruined everything had I not pursued it. (It ended up ruining quite a bit anyway.) It has not been an easy road, but every day, I'm so very glad I'm here. Every. Single. Day.
The Book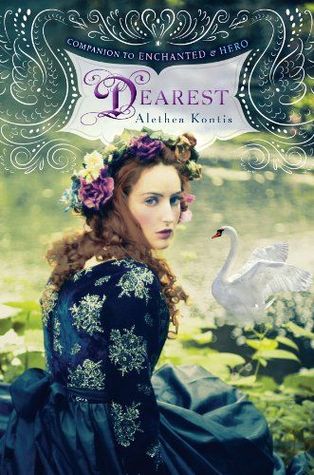 Title:Dearest
Series:Woodcutter Sisters, #3
Author: Alethea Kontis
Target Audience: Young Adult
Genre: Fantasy
Length: 320 Pages
Formats:Hardcover, Ebook
Release Date:February 3rd 2015
Publisher:HMH Books for Young Readers
Add It: Goodreads
Buy It:Amazon – Barnes & Noble – Book Depository – Indie Bound – Powell's
Synopsis:

"A fabulous fairy-tale mashup that deserves hordes of avid readers. Absolutely delectable." —Kirkus Reviews, starred review of award-winning series debut Enchanted

Readers met the Woodcutter sisters (named after the days of the week) in Enchanted and Hero. In this delightful third book, Alethea Kontis weaves together some fine-feathered fairy tales to focus on Friday Woodcutter, the kind and loving seamstress. When Friday stumbles upon seven sleeping brothers in her sister Sunday's palace, she takes one look at Tristan and knows he's her future. But the brothers are cursed to be swans by day. Can Friday's unique magic somehow break the spell?
The Other Woodcutter Sisters Books
Links for Enchanted
Goodreads – Amazon – Barnes & Noble
Book Depository – Indie Bound – Powell's
Links for Hero
Goodreads – Amazon – Barnes & Noble
Book Depository – Indie Bound – Powell's
The Author
New York Times bestselling author Alethea Kontisis a princess, a fairy godmother, and a geek. She's known for screwing up the alphabet, scolding vampire hunters, and ranting about fairy tales on YouTube.
Her published works include: The Wonderland Alphabet (with Janet K. Lee), Diary of a Mad Scientist Garden Gnome (with Janet K. Lee), the AlphaOops series (with Bob Kolar), the Woodcutter Sisters fairy tale series, and The Dark-Hunter Companion (with Sherrilyn Kenyon). Her short fiction, essays, and poetry have appeared in a myriad of anthologies and magazines.
Her YA fairy tale novel, Enchanted, won the Gelett Burgess Children's Book Award in 2012 and the Garden State Teen Book Award i 2015. Enchanted was nominated for the Audie Award in 2013, and was selected for World Book Night in 2014. Both Enchanted and its sequel, Hero, were nominated for the Andre Norton Award.
Born in Burlington, Vermont, Alethea currently lives and writes in Florida, on the Space Coast. She makes the best baklava you've ever tasted and sleeps with a teddy bear named Charlie.
Check out Alethea's Road Tour HERE!
Connect with the author: Website – Goodreads – Facebook – Twitter – YouTube – Tumblr – Instagram – Pinterest

Tour-Wide Giveaway
3 Woodcutter Sisters Prize Packs (signed copies of Enchanted, Hero, & Dearest – US Only)
Ends March 8th
Follow the February Tour!
1 – Launch
2 – Lilac Reviews
3 – Special post @ Waterworld Mermaids
3 – Coffee Books & Art & The Book Lovers' Lounge
4 – Special post @ USA Today's Happy Ever After
4 – Buried Under Books, Mommabears Book Blog, & Rabid Reads
5 – Interview @ J.T. Elison
5 – Gidget Girls Reading
6 – Zerina Blossom & Geo Librarian
8 – Welcome to Book City
9 – Kelly P's Blog & Katy's Krazy Books
10 – Mel's Shelves & Jan Edwards
11 – Katie's Clean Book Collection
12 – A Backwards Story & Wishful Endings
13 – Library of a Book Witch & The Quotable
14 – Biggest Literary Crushes post on @ Dear Teen Me
15 – The Written Adventure
16 – My Life Loves and Passion & Colorimetry
17 – I Am A Reader & The Library of the Seen
18 – Special post on @ Dear Teen Me
18 – Printcess & Living a Goddess Life & Melissa's Eclectic Bookshelf
19 – 100 Pages A Day & mrsjennyreads
20 – Books and Ashes & Addicted Readers
22 – Miss Little Book Addict YA House of Books
23 – SBM Book Obsession
24 – Deal Sharing Aunt
25 – Min Reads and Reviews
26 – Pieces of Whimsy & Wonderous Reviews
27 – The Scribbling Sprite
28 – Grand Finale