Interview
1. If you could live a day in the life of a fictional character, who would it be?
Heather from Kathleen Woodiwiss's "The Flame and the Flower." Such a romantic fairy tale. Being on that ship with Captain Brandon Birmingham. . . I would overcome my fear of the ocean for that!
2. What is your all time favorite book? And what books are currently on your nightstand?
All time favorite? Impossible to say. What's on my nightstand? "The Girl on the Train," a new suspense which has gotten great reviews.
3. If you weren't an author, what would your dream job be?
I would create the floral arrangements in a grand hotel.
4. Do you read and/or comment on reviews?
I read some, comment on none. My favorite quote is from Teddy Roosevelt about his harsh critics: (edited)
"It is not the critic who counts. . .The credit belongs to the man who is actually in the arena . . .if he fails, at least [he] fails while daring greatly. . ."
5. What is one question that you hear too many times during interviews? And a question that you wish someone would ask?
I'm asked "How did you get started?" I'd rather be asked, "How would you like to end?"
This or That?
1.Fiction or Non-Fiction? Fiction
2. Novella or Tome? Tome
3. Cover or Synopsis? Synopsis
4. Bookstore or Library? Bookstore (I'm possessive!)
5. Pen or Pencil? Pen
6. Hardcover or Paperback? Paperback
7. E-book or Audiobook? E-book
8. Science Fiction or Paranormal? Paranormal
9. Stand Alone or Series? Stand alone
10. Bookmarks or Dog Ears? Bookmarks
The Book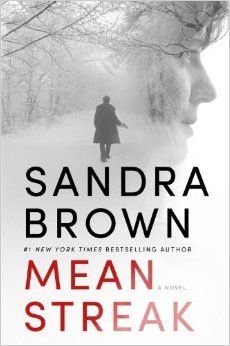 Title: Mean Streak
Author: Sandra Brown
Age Group: Adult
Genre: Romance | Suspense
Length: 409 Pages
Publisher: Grand Central
Publication Date: August 19th 2014
Available Formats:  Hardcover, Paperback, Audio
Find It: Goodreads
Buy It: Amazon | Barnes & Noble | iTunes | Kobo
Synopsis:

Dr. Emory Charbonneau, a pediatrician and marathon runner, disappears on a mountain road in North Carolina. By the time her husband Jeff, miffed over a recent argument, reports her missing, the trail has grown cold. Literally. Fog and ice encapsulate the mountainous wilderness and paralyze the search for her.

While police suspect Jeff of "instant divorce," Emory, suffering from an unexplained head injury, regains consciousness and finds herself the captive of a man whose violent past is so dark that he won't even tell her his name. She's determined to escape him, and willing to take any risks necessary to survive.

Unexpectedly, however, the two have a dangerous encounter with people who adhere to a code of justice all their own. At the center of the dispute is a desperate young woman whom Emory can't turn her back on, even if it means breaking the law.

As her husband's deception is revealed, and the FBI closes in on her captor, Emory begins to wonder if the man with no name is, in fact, her rescuer.
The Author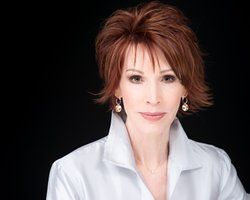 Sandra Brown is the author of more than sixty New York Times bestsellers, including DEADLINE(2013), LOW PRESSURE (2012), LETHAL (2011), TOUGH CUSTOMER (2010), SMASH CUT (2009), SMOKE SCREEN (2008), PLAY DIRTY (2007), RICOCHET (2006), CHILL FACTOR (2005), WHITE HOT (2004), & HELLO, DARKNESS (2003).
Brown began her writing career in 1981 and since then has published over seventy novels, bringing the number of copies of her books in print worldwide to upwards of eighty million. Her work has been translated into over thirty languages.
A lifelong Texan, Sandra Brown was born in Waco, grew up in Fort Worth and attended Texas Christian University, majoring in English. Before embarking on her writing career, she worked as a model at the Dallas Apparel Mart, and in television, including weathercasting for WFAA-TV in Dallas, and feature reporting on the nationally syndicated program "PM Magazine."
In 2009 Brown detoured from her thrillers to write, Rainwater, a much acclaimed, powerfully moving story about honor and sacrifice during the Great Depression.
Brown recently was given an honorary Doctorate of Humane Letters from Texas Christian University. She was named Thriller Master for 2008, the top award given by the International Thriller Writer's Association. Other awards and commendations include the 2007 Texas Medal of Arts Award for Literature and the Romance Writers of America's Lifetime Achievement Award.
The Giveaway
Tour-wide giveaway
 (US and Canada)
5 winners will each get a signed personalized copy of MEAN STREAK in Trade PB and swag (image attached) + a dozen buttercream cookies from Cheryl's.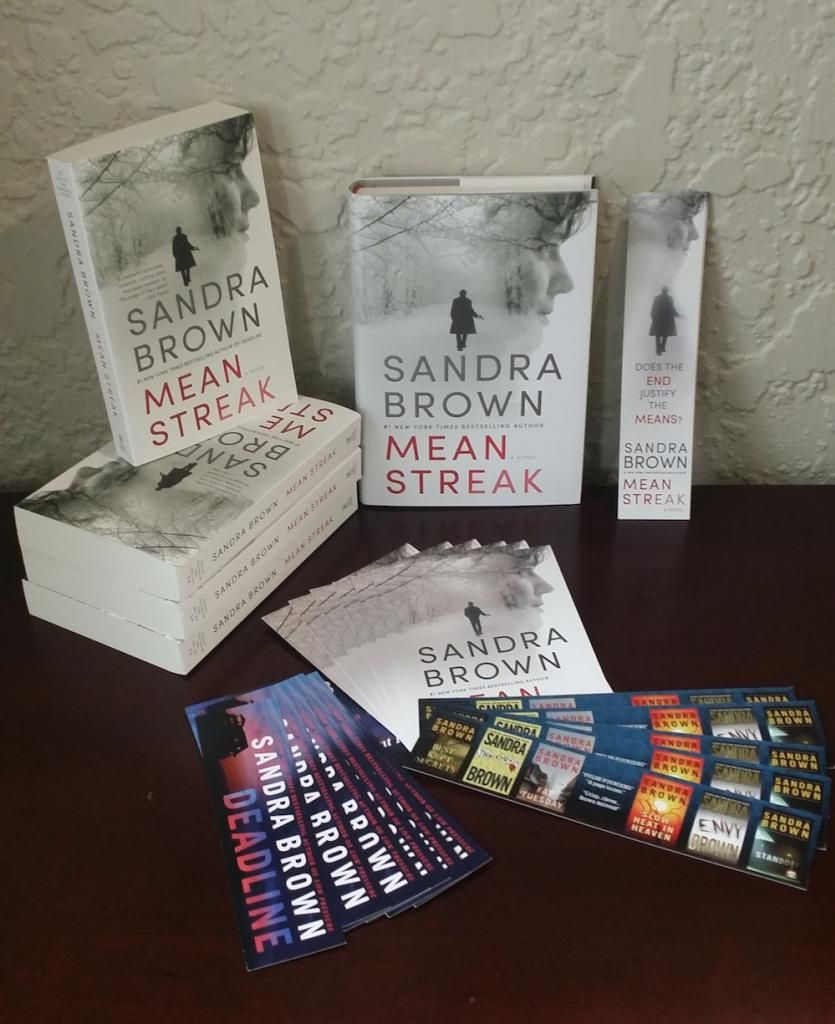 Tour Schedule:
February 9th
–Becky on Books >> Review
–No BS Book Reviews  >> Review
–Her Book Thoughts! >> Review
–Book Vigilante Reviews >> Excerpt
–Mythical Books >> Interview
February 10th
–My Book Addiction >> Excerpt
–The Book Landers  >> Review
–Fresh Fiction >> Interview
–Live Read and Breathe >> Review
February 11th
–Melissa's Eclectic Bookshelf >> Interview
–TNT Reviews >> Review
–Waves of Fiction >> Review
–Books That Hook >> Review
–Crazy Beautiful Reviews >> Excerpt
February 12th
–Seeing Night Reviews >> Review
–Between Printed Pages >> Review
–YaReads >> Interview
–A Dream Within A Dream >> Excerpt
–FictionZeal.com >> Review
February 13th
–Paperrdolls >> Review
–A Little Bit of R&R >> Review
–books are love >> Review
–Tigerlily Books >> Review
–The Book Bag >> Review