1.You're known as one of the shortest working models out there and you've also written four books, what does modeling and writing have in common?
Writing and modeling are both solitary pursuits, both involve a lot of self-believe and passion, both involve taking risks and having a creative mindset. For me, modeling isn't about being a certain height or having the right measurements; it's about bringing your assets forward in a way that is marketable for print ads and commercials. It's competitive, challenging and a hustle but it's all about using what you naturally have to get opportunities and realizing your strengths. In front of the camera you're telling a story with an expression or pose. Being a writer involves realizing your strengths and being fearless. I imagine the characters expressions, the way they dress, the way they walk into a room and present themselves and then add the way their persona affects the other characters. Similar to being on a photo-shoot, the makeup, the styling, the lightning all set the tone for the vibe of the ad or editorial in a magazine, all the details add up. Both modeling and writing involve having creative energy and a creative mindset, to understand the concept of the photo-shoot or to bring to life the words on the page.
2. You've written young adult fiction, a graphic novel and two memoirs, what is your writing process like and is it different depending on what style you're writing in?
I do a lot of staring out the window when I write fiction. It takes a lot more deep thought and creative juice for me to create the characters verse writing about characters that I've known or encountered personally.   When writing my memoir Almost 5'4" and thenShort Stuff: on the job with an x-small model, I took the reader into the casting or on the modeling job with meand easily reflected on the details that came from remembering that moment. Both were written as a tell-all in a time-line style. Almost 5'4" being about my early modeling pursuits and Short Stuff covering experiences on the job that followed (and including modeling tips for shorter girls), so it was sort of like time-travel writing. Once I was back in the studio or at the casting again in my mind, all the senses of the experience would appear on the page: The anxiousness of hoping to book the job, the feeling when I did or didn't, the way I was treated on the job, the sounds of the crew getting ready for the shot, whether the room was warm or cold. 
Compared to writing a memoir where the characters already exist in your mind or memory, fictional characters are carved out of imagination and you're getting to meet them as you write.Once I find the voice of the book, the heart of it comes through and each character needs specific traits that will stay memorable with the reader, and I start to think about each chapter like an episode of a TV series.  I ask myself while writing, am I giving each character enough time on the page? Did I bring out the pivotal moments strong enough? What would the reader be wondering that this point about the story or characters? What do these characters all have in common and what are their differences?  It's like creating the pieces of a puzzle and then putting that puzzle together, whereas writing a graphic novel involved writing for a visual format and it was like writing a screenplay.
For me, anything I write involves having a focus about the goal of the book, the message of it or the emotional impact I want to make.
I don't typically write outlines in stone.  When I wrote Careful I had a light outline of what I aimed to do with each scene or character, but while writing and going through the editorial process I often get influenced by the stuff going on in my life or in the news or something I see on the street and things can change. The story can't always be planned fully because like the characters are growing and changing, so am I. I have the basic idea, but I don't completely know what the end of the book will be until I get to the end.
3. In Careful, what inspired the spiritual relationship Estella seeks to have with her friends and family after her death?
While writing Careful I was grieving my father's tragic death from a propane explosion and fire. Losing him without a goodbye inspired many thoughts about the soul of a person living on.  The feelings Estella's mother has in the book about losing her daughter can represent the emptiness I felt after losing my father. I wanted Estella's transition from the physical to the spiritual to bring out the spirits perspective, how difficult that adjustment might be—to be here one second and then gone the next, and confront the confusion that comes with the sorrow of not getting to say goodbye.  I also wanted to show the closeness and connection that Estella still can feel with her friends and family as shediscovers how to show up in the lives of the living in sentimental and symbolic ways, to say hello. I saw many strong symbols of my father after he passed away (I still do) and maybe it's alljust coincidence…but maybe not. I like to believe there's meaning there. So throughout the book Estella shares with us the behind the scenes of "creating a sign" and uses symbols of her memory to remind her friends and family she is still here.
4. What character in Carefulare you most like?
I'm a little bit like them all. I was a competitive track runner in high school like Estella, I'm tech savvy and into blogging and the social media landscape like Zara, I write in a journal and wrote poems a lot in high school like Eva, I work as a modellike Jett.
5. What was your favorite part/s of Careful to write?
Many! The fight scene (I watched a lot of girl fights on Youtube to get inspired) and when Estella's in Phoenix's bed, and other sentimental moments like Estella attending her own funeral, and then later when she visits her grave and goes under the ground to check on her body.  I liked giving those moments some darkness. I had to be careful when writing about Estella's relationship with her mother and father, I didn't want it to come off cheesy but it was important for Estella and her parents to have a special bond, or a bond in the making.  I remember being sixteen and how much I enjoyed the freedom that came with being almost an adult but still needing my parents even though I didn't want to admit it.
6. What else from your own life did you add to the book?
Throughout the book many little parts of my own life show up discreetly; when Estella's best friends read a poem at her funeral called "Close at Heart," that's a poem I actually wrote in high school for the family of a boy who was killed while playing with guns with his friends.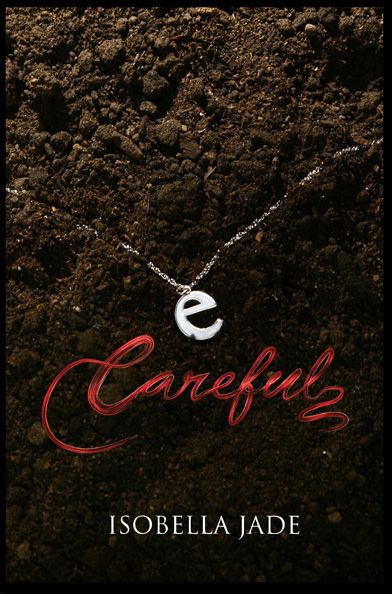 Title:  Careful 
Series:  The Careful, Quiet, Invisible Series #1
Author:  Isobella Jade
Release Date: July 26, 2012
Format:  Paperback/e-book
Size:  292 pages
After Estella Montclair is killed in a texting and driving crash, what remains of her face and body is devastating. But not all of her has died. During the first month after her death, Estella's spirit travels among her living friends and family. Her best friends Zara, Eva and Jett show her how pain and sorrow can break apart or strengthen a bond. She also sees for the first time that loss can spark revenge, catastrophe can come without warning, and we all have secrets. She wonders if her chance for love with Phoenix has passed her by, and if out of sight truly means out of mind. And maybe one day the girl who caused her death will admit her mistake. While adjusting to a new state of being, Estella struggles to face the limitations that come with death, but blossoms by recognizing she can still touch the lives of the people she once knew so well.
Isobella Jade is an author, petite model and a wizard of self-promotion. Her modeling memoir Almost 5'4″ is her personal memoir about being a shorter-than-average model in NYC, the ins and outs and highs and lows of striving to beat the odds. Her graphic novel Model Life was released in November 2009 and Short Stuff is her collection of on-the-job experiences that took place after Almost 5'4″ and includes modeling tips for shorter girls. Her most recent work is a new YA novel called Careful, the first book of the Careful, Quiet, Invisible series.
Connect with the Author:  Website  | Twitter

5 signed print copies of Careful (US only)
5 e-book copies of Careful (International)
Content ©2011-2013 Melissa's Eclectic Bookshelf ~ ~
If you are reading this anywhere other than Melissa's Eclectic Bookshelf, a feed reader, or via email subscription, then this content has been stolen.