Interview
1. Please start by telling us a little bit about yourself.
I live in Cincy with two cats…Spooky and Dr. Watson. I named them that before I started writing mystery. A bit of karma! My license place is Sherlock. I think I need therapy! LOL
I wrote romance for 20 years that always had a bit of mystery then decided I liked writing the mystery more than the romance. I have to confess there is romance in my mysteries.
I drink waaaay too much Coke Zero…addicted to the stuff.
Love Peeps and cannot keep peanut butter in the house. I will kill the jar in one day, just hand me a spoon.
2. When did you know that you wanted to write professionally and how did you take the leap to get into the business?
I started rewriting the endings of books and then started rewriting the whole thing. I've been writing for over twenty years. I have about twenty-something books in romance then decided to write what I love most…mystery.
At first you write for yourself and then you write to get published 'cause you want to see your work out there. I think writing is like anything else you want to do, you put on your big-girl panties and do it. It took me nine years to get published. If you dream it you can do it…or so the bumper sticker says.
3. Can you tell me a little bit about Pearls and Poison and what inspired it?
Pearls and Poison is about an election and a murder. Who hasn't wanted to knock off a politician at one time or another?
Judge Gloria Summerside…or Guillotine Gloria depending on which side of the law you happen to be on… is running for alderman in Savannah, Georgia. Her opponent is a mud-slinging slimeball. Gloria tries to make peace over a bottle of honey bourbon but when Scummy winds up dead and the poison is in the honey bourbon, Gloria is the logical suspect.
Her daughter, Reagan, runs a consignment shop and has gotten roped into finding a killer more than once. Reagan and Auntie KiKi are determined to find the real murder this time to save Gloria…whether she wants them to or not.
The inspiration came from peals and my love for Wild Turkey honey bourbon. Seemed like a marriage made in heaven. 😉
4. What do you hope that readers take away with them after reading your book?
What a fun ride! I write to entertain…a mini vacation to Savannah or Mackinac Island. I want readers to laugh and say, "Honey, listen to this." I want someone to ask the laughing reader, "Is it really that funny?"
5. I find it interesting to know what environment authors find most productive… Do you use a pen and paper or laptop? Quiet room at home or bustling café? Basically, what gets your creative juices flowing?
Computer for writing, big newsprint sheets to plan chapters and make a murder board.
My office is trashed. I've attached a few pics . I have to be at my desk to write and what gets my creative juices is fear that if I don't get this book done I'll get fired.
Writing is a challenge. If it were easy to get published everyone would be. LOL This is a job, much more than a 9 to 5 job. It never ends. But I love it. Cannot imagine doing anything else. And the best part of all is meeting the wonderful readers along the way. I cannot tell you how many readers have become good friends. Tons! Love this job!
6. What has been the toughest criticism given to you as an author? What has been the best compliment?
I got fired from Kensington because my romance books had too much mystery in them.  That hurt at the time but it was the nicest thing Kensington ever did for me.
The best compliment is my readers and my Street Team who want more books and talk me up to friends and other readers. There is no better compliment than that. Wow, they blow me away.
7. What book is currently on your nightstand? And who are some of your favorite authors?
One for the Money Stephanie Plum book one. I think it is pure genius. Best cozy ever!
Truly Madly by Heather Webber. Heather makes me laugh and fall in love. An amazing author
Dead Air by Mary Kennedy Great characters and setting.
I love the Stephanie Plum series. All the books are terrific but the first three are magic. I've read One for the Money so many times it's falling apart. Janet Evanovich is my hero. Best characters ever.
8. What do you like to do when you're not writing?
I'm a woman with a four-bedroom house and a half-acre. If I'm not writing I'm chasing dust-bunnies or trying do laundry or off to the grocery before the cats run away to a better owner or cutting grass…you get the picture. I do travel with my kids. This year we're hiking Arches and Canyonland in Utah and Yosemite. We've done Yellowstone, the Canyon, Glacier National Park, Zion etc.
Trying to keep up with the thirty-somethings is tough but so much fun.
9. Do you have any advice for aspiring writers?
Don't give up! Took me nine years to get published. This is one hard business. If you are not ready for that don't get into it. This is not a hobby, this is not ego, this is business.
10. What can we expect from you next?
Cyclepath Mysteries are set on Mackinac Island. Evie comes to the island to help her boss' dad who owns a bicycle and has broken his leg. Actually she's trying to butter up the boss for a promotion except while she's there the dad gets accused of murder. This is a great way to get fired, not get a promotion. Evie sets out to find the killer without upsetting the summer tourists called fudgies. Murder is never good for business.
11. Do any animals share your life? Please tell us about them.
Spooky and Dr. Watson…both sleeping in my office right now. I named them before I started writing mystery…guess it was a sign of things to come. They rule the house. If you don't believe me just ask them.
And now for a little bit of fun:) This or That?
Coffee or Tea? Coffee…high octane only. The more the better!
Sweet or Salty? Both! I love junk food. Bring it on. Snickers are God's little gift to the world.
Beach or Lake? Anything with water and I'm all over it. Heck, I even love fountains. We had sailboats for years. What great memories.
Winter or Summer? Summer…bring on the sun. I love flowers. Love wearing sunglasses and going barefoot and grilling out.
Cats or Dogs? Love both but I have two cats. A rescue pup would be nice.
Zombies or Vampires? Can I have George Clooney instead?
Country or City? Love both. Like living in the city and vacationing in the country.
Shower or Bath? Shower! Who has time to fill a tub!
Morning or Evening? Write in the morning and play in the evening.
M&Ms or Skittles? Snickers. I really got a thing for Snickers.
Trains or Planes? Trains are wonderful but I live in the US so planes . Anything under nine hours I drive. I'm such a control freak
Comedy or Drama? Comedy!!!!!! If I can't laugh why bother. I have four kids there's already enough drama in my life.
The Book
Title:Pearls and Poison
Series: A Consignment Shop Mystery #3
Author: Duffy Brown
Age Group: Adult
Genre: Cozy Mystery
Pages: 304
Publication Date: March 4th 2014
Publisher:Berkeley
ISBN-13: 978-0425252482
Available Formats: Paperback, E-book
Find it: Goodreads
Buy it:  Amazon  | B&N | The Book Depository

Synopsis:
It's election time in Savannah, Georgia, and Judge Guillotine Gloria—aka Reagan Summerside's mom—is neck and neck in the polls with Kip "Scummy" Seymour.  But the already dirty campaign is about to get downright filthy—with one candidate getting buried six feet under….
With her strong opinions and knack for getting into trouble, Reagan is not an ideal volunteer for her mother's alderman campaign. Plus, she'd rather be running her consignment shop, the Prissy Fox, and eating doughnuts with her dog, Bruce Willis. But when her mother's opponent, Kip, is found poisoned and her mother is pegged as a suspect, Reagan nominates herself as lead murder investigator.
Reagan is intent on finding Kip's killer and clearing her mother's good name, but she soon finds herself on the bad side of Kip's enemies-turned-suspects. This time, no amount of costumes and makeup can keep her inconspicuous and out of danger. Because the closer Reagan gets to the truth, the hotter things get….
The Author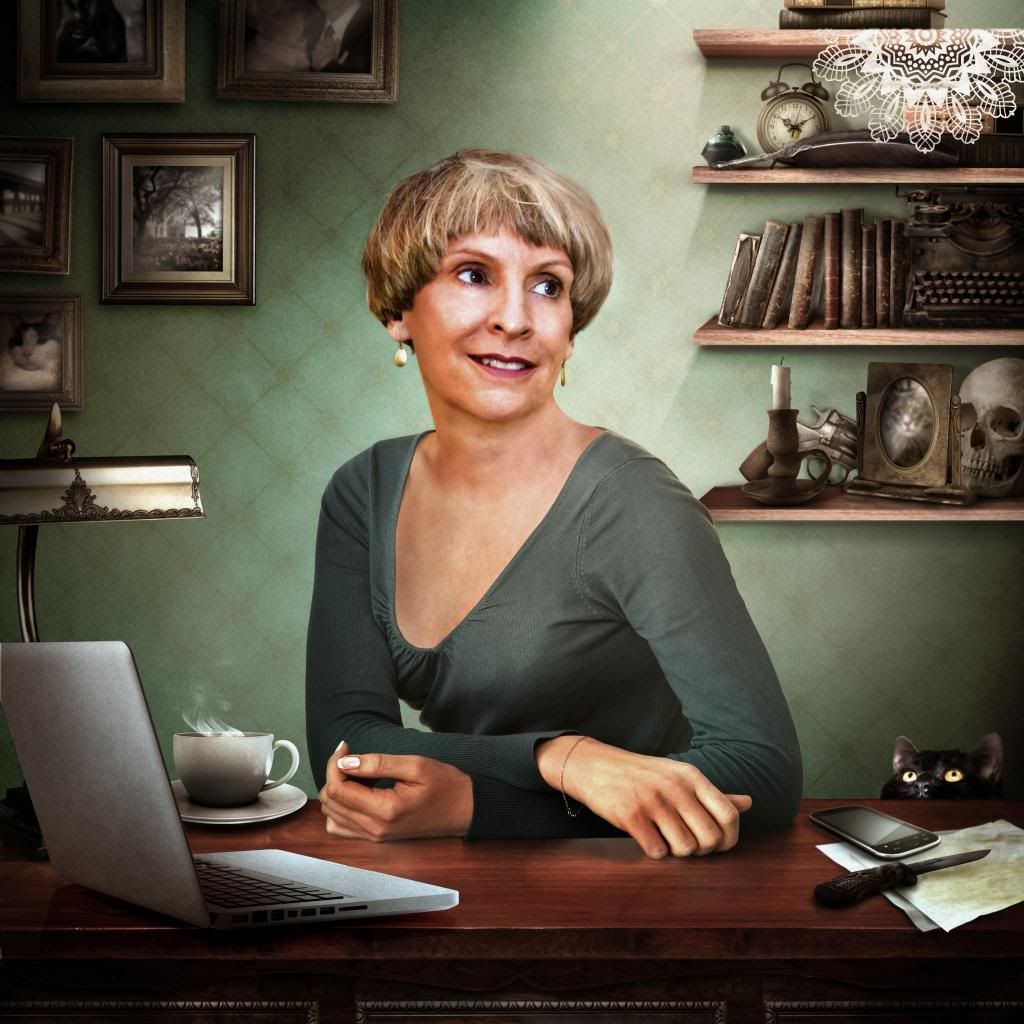 Duffy Brown loves anything with a mystery. While others girls dreamed of dating Brad Pitt, Duffy longed to take Sherlock Holmes to the prom. She has two cats, Spooky and Dr. Watson, her license plate is Sherlock and she conjures up who-done-it stories of her very own for Berkley Prime Crime. Duffy's national bestselling Consignment Shop Mystery series is set in Savannah and the Cyclepath Mysteries are set on Mackinac Island. Duffy writes romance as Dianne Castell and is a USA Today bestselling author.
Find the author:   Website |  Facebook | Email
The Giveaway
2 Pearl and Poison Tote Bags ( U.S. ONLY)