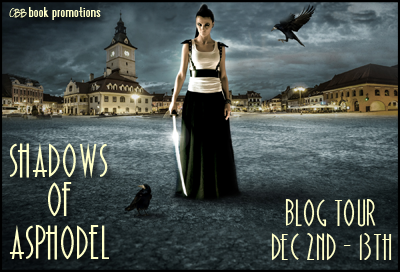 I'm so happy to welcome Karen Kincy to the blog today! I read and loved Shadows of Asphodel and am pleased to bring you some more info about Karen and the book as well as a great giveaway!
Check out My review of SHADOWS OF ASPHODEL!
Interview
1. Please start by telling us a little bit about yourself.
I live in the lush green forests of western Washington, which mean I spend a lot of time outside under trees when I'm not hunkered inside my writing cave like Gollum. I have a BA in Linguistics and Literature from The Evergreen State College, and right now I'm working on prerequisites for grad school, though I keep getting distracted by books.
2. When did you know that you wanted to write professionally and how did you take the leap to get into the business?
I started writing my first novel when I was thirteen. This book was total crap and will never see the light of day, but that didn't stop me from writing more, and eventually, querying literary agents when I was eighteen. Eventually, I found an agent and an editor. Flux published three of my young adult paranormal novels. Most recently, I decided to take the leap into indie publishing with Shadows of Asphodel.
3. Can you tell me a little bit about Shadows of Asphodel and what inspired it?
Shadows of Asphodel is a dieselpunk set in an alternate 1913. It has necromancy, giant robots, steamy romance, and a fight scene in a ballroom with a smashing chandelier. What more could you ask for? 😉
Believe it or not, Shadows of Asphodel was inspired by a dream. I was on a snowy field, walking toward a handsome man in black who was bleeding to death. When I woke up, I started writing, and that became the very first scene in the book.
4. What do you hope that readers take way with them after reading your book?
I hope that each reader who finishes the book will yell, "It's over? Nooo!" and then run to find the sequel. Seriously, though, I want every reader to have an awesome adventure with squee-worthy romance and nail-biting action scenes. 😉
5. I find it interesting to know what environment authors find most productive… Do you use a pen and paper or laptop? Quiet room at home or bustling café? Basically, what gets your creative juices flowing?
Over the years, I have developed the ability to write in strange places. Like how cats can sleep in weird nooks and crannies. I have written on my netbook at Starbucks, or on pen and paper at the riverside, or on my computer at home. My favorite place to write happens to be outside in the sun.
6. What has been the toughest criticism given to you as an author? What has been the best compliment?
The toughest criticism I have got has to be from readers who have hated my favorite characters. It's the moment where you realize they just didn't get the story the same way you envisioned it in your head. The best compliment has to be every time I see a reader who loved the story and had a fantastic time reading it. That's the kind of thing that makes me keep writing more books.
7. What book is currently on your nightstand? And who are some of your favorite authors?
My Kindle is currently on my nightstand. I'm reading The Night Circus right now, and I also have a pile of ARCs I need to get through. Some of my favorite authors include Annette Curtis Klause, Phillip Pullman, and Libba Bray.
8. What do you like to do when you're not writing?
Running, gardening, tinkering with my fish tanks full of bettas and aquatic plants.
9. Do you have any advice for aspiring writers?
Rejections and bad reviews just mean that somebody wasn't the right reader for your book! Don't be afraid to ignore them and keep going. You will find your fans.
10. What can we expect from you next?
Storms of Lazarus, the sequel to Shadows of Asphodel. Now with 110% more giant robots! Okay, okay, I'm only half-joking. But Storms will continue the story of Ardis and Wendel, and will explore more of the alternate history leading up to World War One.
11. Do any animals share your life? Please tell us about them.
Like I mentioned earlier, I have aquariums with betta fish. Two 10-gallon tanks, each with a male betta in them, and one 20-gallon tank with a female betta sorority known as the She-Brats. These fish all have names and are incredibly tame. They will eat out of your hands and love to chase veggies like green peas around their tanks.
And now for a little bit of fun:) This or That?
1. Light Chocolate or Dark Chocolate? Dark! Obviously.
2. Hugs or Kisses? Kisses.
3. Drama or Comedy? Hmmm. Black comedy?
4. Snow or Sand? Sand. Especially the warm light kind.
5. Dragons or Fairies? Dragons. I want a cute baby one that will ride on my shoulder like Daenerys on Game of Thrones.
6. Night or Day? Day, since it's getting dark way too soon now up here in Washington and I miss the sun.
7. Rock or Pop? Rock all the way. I have been listening to Queens of the Stone Age on endless repeat lately. I also may have a musical crush on Chris Cornell.
8. Dogs or Cats? Dogs. I grew up with adorable Pomeranians.
9. Harry Potter or Twilight? Harry Potter! I'm a Hufflepuff.
10. Coffee or Tea? Jasmine tea, though I have a weakness for mochas.
The Book
Title: Shadows of Asphodel
Series: Shadows of Asphodel #1
Author: Karen Kincy
Age Group: Adult
Genre: Dieselpunk Romance
Pages: 350
Publication Date: September 13th 2013
Available Formats: Paperback, E-book
Find it: Goodreads
Buy it: Amazon | Barnes & Noble

Synopsis:
When Ardis discovers a man bleeding to death on the battlefield, she knows she has to walk away.
1913. In her work as a mercenary for Austria-Hungary, Ardis has killed many men without hesitation. One more man shouldn't matter, even if he manages to be a charming bastard while he stands dying in the snow.
But when he raises the dead to fight for him, she realizes she must save his life.
If a necromancer like Wendel dies, he will return as a monster—or so the rumors say. Ardis decides to play it safe and rescues him. What she doesn't expect is Wendel falling to one knee and swearing fealty. Ardis never asked for the undying loyalty of a necromancer, but it's too late now.
Ardis and Wendel forge an uneasy alliance underscored with sexual tension. Together, they confront rebels, assassins, and a conspiracy involving a military secret: robotically-enhanced soldiers for a world on the brink of war. But as Ardis starts to fall for Wendel, she realizes the scars from his past run more deeply than she ever imagined. Can Ardis stop Wendel before his thirst for revenge destroys him and everyone else around him?
The Author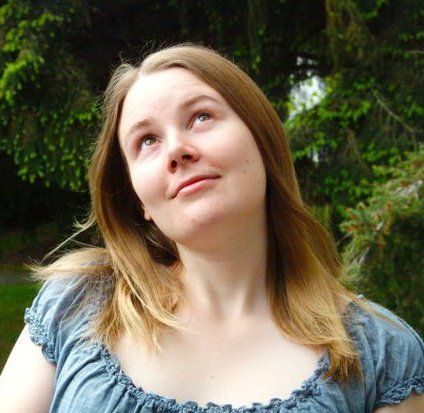 Karen Kincy (Redmond, Washington) can be found lurking in her writing cave, though sunshine will lure her outside. When not writing, she stays busy gardening, tinkering with aquariums, or running just one more mile. Karen has a BA in Linguistics and Literature from The Evergreen State College.
The Giveaway
 $25 Amazon Gift Card (INT)