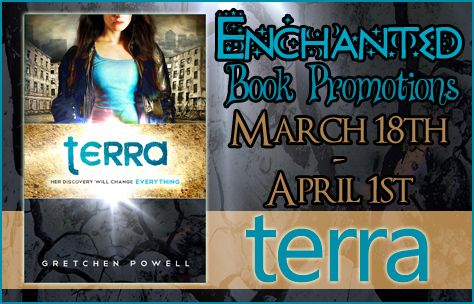 1. Please start by telling us a little bit about yourself.  
Hi everyone! My name is Gretchen Powell. I'm half-Chinese, aaaaalmost 25 (my birthday is in a few weeks!), and am really, really into books. I love anything with polka dots, I play the ukulele, and I'm obsessed with my dogs—two miniature schnauzers named Harry and Daxter.
2. When did you know that you wanted to write professionally and how did you take the leap to get into the business?  
I think deep down, I've always known I wanted to be a writer. I used to make up stories when I was a kid, and that continued until I got distracted by other things when I was in college. Once I got slightly more settled into my "grown up" (I use that term loosely, haha) life, the spark came back, and I knew it was time to really give writing a try. I came up with the concept for Terra, started writing, and decided pretty early in the process that I wanted to self-publish my novel. And here we are!
3. Can you tell me a little bit about your book and what inspired it? 
Terra is a young adult dystopian science fiction novel that follows the story of one girl and a single discovery that turns her world upside down. I've always loved dystopian fiction, and was thrilled when it started getting more popular with the release of The Hunger Games. I also am really into science fiction (I think I get it from my dad), and it became pretty clear early on that Terra would kind of end up straddling the two genres.
4. What do you hope that readers take away with them after reading your book?  
Well, I was a total jerk and end the book with a bit of a cliffhanger, so I think I'm definitely hoping they're left wanting to know what happens next, hehe. Other than that, I guess my only hope is that people come away from reading Terra having enjoyed getting to know the characters and going along on their journey with them.

5. I find it interesting to know what environment authors find most productive… Do you use a pen and paper or laptop? Quiet room at home or bustling café? Basically, what gets your creative juices flowing?
Great question! My honest answer is that every day, every time I write, it's a little bit different. I do write exclusively on my laptop, but sometimes it's at home—on my bed, at my desk, on the kitchen table—and sometimes it's out and about—at Starbucks, Panera, at the library, wherever! The only thing I know for sure I can't handle is listening to music while I write. I get too into the music, and it just does't work for me. Other than that, inspiration strikes at the oddest, and often most inconvenient times, so I make sure to always have a pen and notepad—or at the very least, my iPhone—on hand at all times, just in case something brilliant occurs to me. Of course, the one time that doesn't really work out is when I'm in the shower. And, naturally, the best ideas always seem to come to me in there, haha!
6. What has been the toughest criticism given to you as an author? What has been the best compliment?
Any criticism on something you've worked hard on and is personal to you can be tough to swallow, but for the most part I've learned to take most of it in stride. The toughest critiques for me to read are ones where I feel like the critic misread or misjudged something, and I have to fight against my instinct to "correct" him or her. But of course, there's no correcting someone's opinion, and even if they've formulated their critique on facts you consider "wrong," they're still entitled to feel and think that way. It's still hard to restrain myself from responding though, haha.
The best compliments are just when people say they love the book! I especially appreciate those who really say they admire/relate to Terra's character, since she is the part of the book I am most closely tied to (given that it's written from her POV). Luckily, I haven't had any personal attacks come in the form of reviews ("She's an awful writer!" "She's a terrible human being!") so I guess so far I really don't have any license to complain.
7. What book is currently on your nightstand? And who are some of your favorite authors? 
I just started reading Shatter Me by Tahereh Mafi, but have actually put it on hold while I'm working on the sequel to Terra. I absolutely love to read, but find I have to be judicious about what books I read while I'm in "writing mode" because I don't want to emulate another author too closely. Some of my favorite authors are JK Rowling, Suzanne Collins, Maggie Stiefvater, and Phillip Pullman.
8. What do you like to do when you're not writing? 
I have a ton of interests, actually! I play ukulele and sing a bit, I play with my dogs, watch my favorite TV shows (I am totally not ashamed of how much I love The Vampire Diaries), read, paint… and I also write a personal blog about healthy living, food, fitness, and weight loss called "Honey, I Shrunk the Gretchen!" on the side.
9. Do you have any advice for aspiring writers?
I say, drop the "aspiring" from the title, and just write. I spent a long time saying, "Well, I'd like to write a book, but I don't think I can," or "I don't know when I'd have the time," or any number of other excuses. But I found that once I finally committed and decided to really do this thing, the words flowed much easier and faster than I could have expected. Before I knew it, I had written an ENTIRE BOOK! Something that feels good no matter how many copies you sell or positive accolades you get. If you have an idea that you'd like to explore by writing about it, go for it. You never know how the idea will blossom, how attached you can get to characters you create, and what will come from it.

10. What can we expect from you next? 
Right now, I'm working on the sequel to Terra, which is called Underground and is slated for publication sometime over the summer.
11. Do any animals share your life? Please tell us about them.
Hehe, well, as mentioned, I have two pretty epic dogs. They are miniature schnauzers, Harry is almost 9 (eep!) and Daxter is a little over 3. They only weigh about 40 pounds combined, but they're so full of life and energy and they make my day so much brighter just by being there. Is it weird that I love my dogs so much? Hahaha.
And now for a little bit of fun:)  This or That?  
Coffee or Tea?  Both! One right after the other!
Sweet or Salty?   Salty.
Beach or Lake?   Beach.
Winter or Summer?  Winter.
Cats or Dogs?   Dogs, of course!
Zombies or Vampires?   Vampires. Always sexy.
Country or City?  I'm a city gal.
Shower or Bath?   Shower.
Morning or Evening?  Evening. Oh man, don't even get me started on how NOT a morning person I am.
M&Ms or Skittles?  M&Ms. Chocolate forever!
Trains or Planes?  Planes.
Comedy or Drama?  Comedy! Laughter is the best.
See, I told you she was adorable…and her book sounds pretty awesome too…read on for more info!!!

Author:  Gretchen Powell
Reading Level: Young Adult
Genre: Post Apocalyptic/Dystopian
Release Date: December 12th 2012
A broken and desolate Earth. A young girl struggling to survive. A lost boy with a powerful secret.

A discovery that will change everything.

In the distant wake of a plague that has decimated the Earth's population, humanity is split in two: The rich and powerful live in skycities that float overhead, while those who remain on the ground have gathered in settlements strewn across a dying planet. Eighteen-year-old Terra Rhodon is a terrestrial–a denizen of the barren groundworld–who makes her living as a scav. Long abandoned by her father, her caregivers gone, Terra supports herself and her younger brother, Mica, by scouring the earth for discarded scraps and metals to recycle for profit. One day, while on a routine scavenging run, she discovers something that shocks her home settlement of Genesis X-16. When the value of her discovery is revealed, Terra's world is turned upside down.

Terra suddenly finds herself asking questions no one will answer. Her search for the truth leads her to Adam–a beguiling skydweller unlike any she has ever met. But Adam has secrets and a quest of his own, and with him by her side, the world Terra thought she knew begins to unravel. Soon her discoveries unearth a terrifying conspiracy that has the potential to shatter everything–a revelation that will test the bonds of loyalty, family, and love.

The first book in debut author Gretchen Powell's anticipated Terrestrials series, Terra catapults you through a story filled with blood-pumping action, intrigue, and surprising twists that will both wrench and warm your heart. As the hidden truths of this world unfold, new dangers that loom on the horizon are sure to leave you waiting breathlessly for the sequel.

"Got
her!" The sound is victorious and terrifying. With the flashlight lighting my
path from behind, I immediately understand why. An enormous wall made up of
huge metal panels stands twenty feet in front of me, blocking off the rest of
the tunnel from top to bottom.
"No…"
A small cry escapes my lips. Barricaded in front, raiders at my back. There's
nowhere left to run. I reach the wall and pound on it hopelessly, my fists
echoing against the steel. The adrenaline that has been propelling me drains
from my body as my impending defeat washes over me. A muffled ringing fills my
ears, pressing against my brain, and I feel an icy chill in my cheeks, which
should still be hot from the chase. The throbbing rhythm in my head calls forth
a cool darkness that begins to seep into the edges of my consciousness.
A
surge of light suddenly blinds me. Strong arms wrap around me, wrenching me
from the wall. The arms are bare; I can feel the smooth skin against my own. I
wonder with detached interest why the raiders would take off their jackets
after going through the trouble of using masks and gloves up top.
My
instincts tell me to struggle but it just seems so futile, I simply let my
captor pull me back. Through the fog of the spreading blackness, I hear screams
of outrage.
Why are they mad? They've caught me.
I
am shoved from behind and burst through a door into impossible sunlight. I
blink rapidly; my eyes, adjusted for the blackness of the tunnel, burn in
response to the sudden brightness. I reach up to rub them and find them wet.
The light must be making them water. Yes, that must be it.
A
heavy hammering echoes from behind me, fists banging against metal, but the
darkness and pain in my head has consumed me. I spin around just in time to see
bare arms reaching for me, before I crumple to the ground.

Half-Chinese and the daughter of a US diplomat, Gretchen Powell spent her childhood growing up in far-off places. She made it all the way to her mid-twenties whilst maintaining her deep-seated love for young adult novels, so she decided to write one of her own.
Her creative process involves copious amounts of Sour Patch Kids and sleeping fitfully.
When she isn't writing young adult dystopian science fiction, Gretchen also writes a successful healthy living blog, entitled Honey, I Shrunk the Gretchen!
She lives in Northern Virginia with her two adorable miniature schnauzers. They wear many sweaters.

A signed paperback and bookmarks of Terra (US ONLY)
a Rafflecopter giveaway
An eBook copy of Terra (International)
a Rafflecopter giveaway
Content ©2011-2013 Melissa's Eclectic Bookshelf ~ ~
If you are reading this anywhere other than Melissa's Eclectic Bookshelf, a feed reader, or via email subscription, then this content has been stolen.