In the Mysterious Meetup Challenge you can have that conversation with your favourite book character of all times. Who would you want to meet? What questions would you ask him or her? Share your Mysterious Meetup with us! 
I don't know that I can narrow this down to one favorite book character!!!  I immediately thought of three characters (and four actors). And I fear that my desire to meet with them is some amalgam of both character and actor…  
So without further delay…here they are
…
1.  My childhood crush: Sherlock Holmes as portrayed by Jeremy Brett and/or Robert Downey, Jr.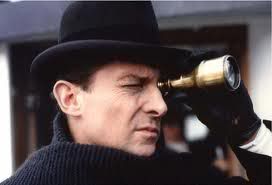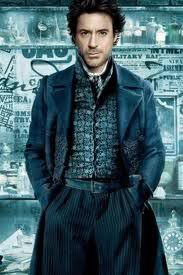 I think that I have been a little in love with Sherlock Holmes since I was ten!  In Kindergarten I got hooked on mysteries by Nancy Drew…but by fifth grade it was all about Holmes.  How his brain works fascinates me and I'd love to spend time with him just to watch that beautiful mind in action.  plus he could serenade me with the violin.  Still one of my all time favorites and I think that both of these actors do him great justice  albeit in different ways.
2.  Close to my heart: Severus Snape as portrayed by Alan Rickman
Ah, what a wonderfully complex character is Severus Snape.  I love that I never can quite put my finger on him.  I love that he can inspire both revulsion and intense affection all at once.  I'd love to know more about who he was "before." To meet the Snape that loved Lily before he was completely broken by her marriage to James and ultimately her death. My heart just breaks open for him. And as to Alan Rickman…well I think that his credentials speak for themselves…he is perhaps my favorite actor of all time.  So Amazingly Talented!
3.  Honorary mention:  Aragorn as portrayed by Viggo Mortenson
Ok, I am going to be honest here.  I haven't read the Trilogy.  I read The Hobbit and never made in past that point.  But after watching the Trilogy how could I not but love this character.  Sad and grim, full of self doubt and recriminations…but oh so strong and dependable….  And as to Viggo Mortenson…I think that picture speaks for itself ;p
There is definitely a pattern here…am I the only one to see it???
Reading Update-So far this month I have read the following review books:
Beyond the Misty Shore – Vicki Hinze 
(In Progress…)
 The Replacement Wife – Eileen Goudge 
  Entangled – Nikki Jefford 
 The Book of Lost Fragrances – M.J. Rose 
  Switched – Amanda Hocking 
Content ©2011-2013 Melissa's Eclectic Bookshelf ~ ~
If you are reading this anywhere other than Melissa's Eclectic Bookshelf, a feed reader, or via email subscription, then this content has been stolen.