(Inspired by Mailbox Monday, IMM, Clock Rewinders and the like)
Notes from Melissa
I can't believe that we are in June already! I'm still trying to organize after BEA and find room for my new books in addition to logging them into Goodreads. I'm doing my best for the next little while to resist any hard copies and stick to audios and e-books as I am bursting at the seams over here. My dream at some point this summer is to convert my Guest bedroom where I currently have my desk and bookshelves into a real office/library…by eliminating the bedroom furniture I'll have so much more room for books!!! If I do make this a reality I'll try to share some pictures!
Hope that all of you are having a great weekend! Read On!!
 Recently on Melissa's Eclectic Bookshelf
What I Read Last Week
The Strange Affair of Spring Heeled Jack (Burton & Swinburne #1) – Mark Hodder (Audiobook)
If You Only Knew – Kristan Higgins
What I Am Reading Today
Redemption Bay (Haven Point #2) – RaeAnne Thayne
Crazy Love You -Lisa Unger (Audiobook)
Love Fortunes and other Disasters – Kimberly Karalius   —-   Possible DNF 🙁
Current Giveaways
♥ Print Copy of SWEET (6/13)
♥ $10 Amazon GC & 2 Copies of THE UNRAVELING (6/11)
♥ $15 Amazon GC & SIGNED DESCENT Poster (6/29)
Added to the Bookshelf This Week
Audiobooks for Review:)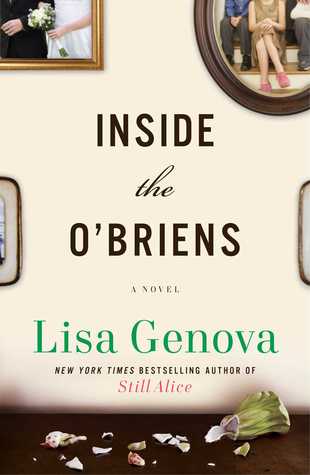 Inside the O'Briens
by Lisa Genova
From award-winning, New York Times bestselling author and neuroscientist Lisa Genova comes a powerful new novel that does for Huntington's Disease what her debut Still Alice did for Alzheimer's.
Joe O'Brien is a forty-four-year-old police officer from the Irish Catholic neighborhood of Charlestown, Massachusetts. A devoted husband, proud father of four children in their twenties, and respected officer, Joe begins experiencing bouts of disorganized thinking, uncharacteristic temper outbursts, and strange, involuntary movements. He initially attributes these episodes to the stress of his job, but as these symptoms worsen, he agrees to see a neurologist and is handed a diagnosis that will change his and his family's lives forever: Huntington's Disease.
Huntington's is a lethal neurodegenerative disease with no treatment and no cure. Each of Joe's four children has a 50 percent chance of inheriting their father's disease, and a simple blood test can reveal their genetic fate. While watching her potential future in her father's escalating symptoms, twenty-one-year-old daughter Katie struggles with the questions this test imposes on her young adult life. Does she want to know? What if she's gene positive? Can she live with the constant anxiety of not knowing?
As Joe's symptoms worsen and he's eventually stripped of his badge and more, Joe struggles to maintain hope and a sense of purpose, while Katie and her siblings must find the courage to either live a life "at risk" or learn their fate.
Praised for writing that "explores the resilience of the human spirit" (The San Francisco Chronicle), Lisa Genova has once again delivered a novel as powerful and unforgettable as the human insights at its core.

The Immortalist: A Sci-Fi Thriller
by Scott Britz
For fans of Robin Cook and Michael Crichton comes a medical thriller that melds cutting-edge science with ripped-from-the-headlines terror. What happens when a new immortality drug leads to an explosive outbreak of a deadly virus that, if not contained, could wipe out humanity once and for all?
World-renowned virologist Dr. Cricket Rensselaer-Wright abruptly abandoned her research in Africa after watching her colleague die tragically from the Ebola virus. When she returns to the States to reunite with her teenage daughter Emmy, her plans are sidetracked. No sooner does she set foot on the campus of Acadia Springs—the research institute where she grew up and Emmy now lives—than her onetime mentor Charles Gifford announces his discovery of the Methuselah Vector, a gene therapy agent that can confer immortality on a patient after a single injection.
Gifford's air of triumph is marred when a young woman on campus dies suddenly from a horrific viral infection, eerily similar to the Ebola that drove Cricket out of Africa. Despite Cricket's pleas to slow down the rollout of the Vector and run more tests, Gifford refuses. And when the unthinkable happens—when Emmy falls ill with the same mysterious disease—Cricket is forced to take matters into her own hands. But is it already too late?
Gifford will stop at nothing to release the Vector into the world. Mobs are clamoring for it. Cricket has only a few hours to find a cure for Emmy, and to convince the public that Gifford's quest for eternal life may cost the very lives he hopes to save.

Hit (Hit #1)
by Delilah S. Dawson
NO ONE READS THE FINE PRINT.
The good news is that the USA is finally out of debt. The bad news is that we were bought out by Valor National Bank, and debtors are the new big game, thanks to a tricky little clause hidden deep in the fine print of a credit card application. Now, after a swift and silent takeover that leaves 9-1-1 calls going through to Valor voicemail, they're unleashing a wave of anarchy across the country.
Patsy didn't have much of a choice. When the suits showed up at her house threatening to kill her mother then and there for outstanding debt unless Patsy agreed to be an indentured assassin, what was she supposed to do? Let her own mother die?
Patsy is forced to take on a five-day mission to complete a hit list of ten names. Each name on Patsy's list has only three choices: pay the debt on the spot, agree to work as a bounty hunter, or die. And Patsy has to kill them personally, or else her mom takes a bullet of her own.
Since yarn bombing is the only rebellion in Patsy's past, she's horrified and overwhelmed, especially as she realizes that most of the ten people on her list aren't strangers. Things get even more complicated when a moment of mercy lands her with a sidekick: a hot rich kid named Wyatt whose brother is the last name on Patsy's list. The two share an intense chemistry even as every tick of the clock draws them closer to an impossible choice.
Delilah S. Dawson offers an absorbing, frightening glimpse at a reality just steps away from ours—a taut, suspenseful thriller that absolutely mesmerizes from start to finish.
Free Audiobooks via YASYNC & Audiobooks.com

A Corner of White (The Colours of Madeleine #1)
by Jaclyn Moriarty
The first in a rousing, funny, genre-busting trilogy from bestseller Jaclyn Moriarty!
This is a tale of missing persons. Madeleine and her mother have run away from their former life, under mysterious circumstances, and settled in a rainy corner of Cambridge (in our world).
Elliot, on the other hand, is in search of his father, who disappeared on the night his uncle was found dead. The talk in the town of Bonfire (in the Kingdom of Cello) is that Elliot's dad may have killed his brother and run away with the Physics teacher. But Elliot refuses to believe it. And he is determined to find both his dad and the truth.
As Madeleine and Elliot move closer to unraveling their mysteries, they begin to exchange messages across worlds — through an accidental gap that hasn't appeared in centuries. But even greater mysteries are unfolding on both sides of the gap: dangerous weather phenomena called "color storms;" a strange fascination with Isaac Newton; the myth of the "Butterfly Child," whose appearance could end the droughts of Cello; and some unexpected kisses…

Cat and Jemima J
by Jane Green
From number one Sunday Times bestselling author Jane Green comes an original short story, featuring Jemima, the main character from Green's beloved novel Jemima J, and Cat, the main character from her upcoming novel Summer Secrets.
When young journalist Cat meets JJ, a career-making opportunity for a story presents itself. Cat has the chance to shine – but at the expense of a new friendship, will she take it?

The Ring and the Crown (The Ring and the Crown #1)
by Melissa de la Cruz
Princess Marie-Victoria, heir to the Lily Throne, and Aelwyn Myrddn, bastard daughter of the Mage of England, grew up together. But who will rule, and who will serve?
Quiet and gentle, Marie has never lived up to the ambitions of her mother, Queen Eleanor the Second, Supreme Ruler of the Franco-British Empire. With the help of her Head Merlin, Emrys, Eleanor has maintained her stranglehold on the world's only source of magic. She rules the most powerful empire the world has ever seen.
But even with the aid of Emrys' magic, Eleanor's extended lifespan is nearing its end. The princess must marry and produce an heir or the Empire will be vulnerable to its greatest enemy, Prussia. The two kingdoms must unite to end the war, and the only solution is a match between Marie and Prince Leopold VII, heir to the Prussian throne. But Marie has always loved Gill, her childhood friend and soldier of the Queen's Guard.
Together, Marie and Aelwyn, a powerful magician in her own right, come up with a plan. Aelwyn will take on Marie's face, allowing the princess to escape with Gill and live the quiet life she's always wanted. And Aelwyn will get what she's always dreamed of–the chance to rule. But the court intrigue and hunger for power in Lenoran England run deeper than anyone could imagine. In the end, there is only rule that matters in Eleanor's court: trust no one.
Purchased eBooks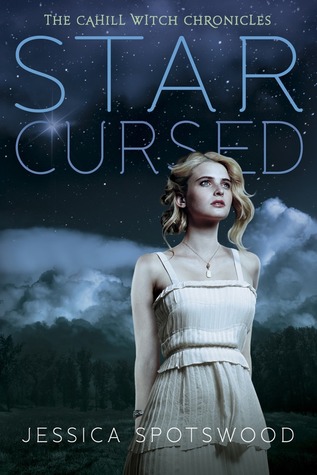 Star Cursed (The Cahill Witch Chronicles #2)
by Jessica Spotswood
With the Brotherhood persecuting witches like never before, a divided Sisterhood desperately needs Cate to come into her Prophesied powers. And after Cate's friend Sachi is arrested for using magic, a war-thirsty Sister offers to help her find answers—if Cate is willing to endanger everyone she loves.
Cate doesn't want to be a weapon, and she doesn't want to involve her friends and Finn in the Sisterhood's schemes. But when Maura and Tess join the Sisterhood, Maura makes it clear that she'll do whatever it takes to lead the witches to victory. Even if it means sacrifices. Even if it means overthrowing Cate. Even if it means all-out war.
In the highly anticipated sequel to Born Wicked, the Cahill Witch Chronicles continue Cate, Maura and Tess's quest to find love, protect family, and explore their magic against all odds in an alternate history of New England.
That's all for me this week!
What new goodies have arrived on your doorstep?
Leave me a link in the comments and I'll come check out your post!