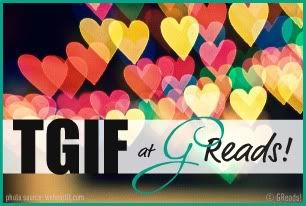 Hosted by GReads🙂
This Friday's Question:
Recommend It: Which book from the last 10 you've read would you recommend to a friend?
Wow…I don't know that I could narrow it down to just one!!!  Here's a list of the last 10 books that I've read:


Catching Fire – Suzanne Collins 
The Yoga Club – Cooper Lawrence 
An O'Brien Family Christmas – Sherryl Woods 
The Language of Flowers – Vanessa Diffenbaugh 
The Host – Stephanie Meyer 
Sweet Inspiration – Penny Watson 
Wish Upon A Star – Sarah Morgan 
Miss Peregrine's Home for Peculiar Children – Ransom Rigg
s
Of these I would say that The Host & Catching Fire are 100% must reads!!  But I would also very highly recommend everyone read Delerium & The Language of Flowers!  And for those that are not afraid of the YA label…Cinder is amazing…It didn't even "feel" like YA to me!  Hopefully I'll have my review of it up soon:)
This week at Melissa's Eclectic Bookshelf
Weekly Features:  
Content ©2011-2013 Melissa's Eclectic Bookshelf ~ ~
If you are reading this anywhere other than Melissa's Eclectic Bookshelf, a feed reader, or via email subscription, then this content has been stolen.