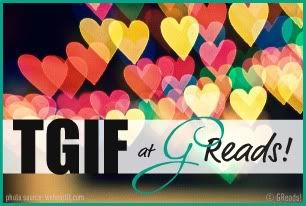 Hosted by GReads🙂

This Friday's Question:
Book Appeal: When you're browsing goodreads, the library, or another blogger's reviews, what grabs your attention to make you want to read it?
Answer:
I won't deny that if I'm actually looking at the book (browsing shelves as opposed to hearing someone talking about a book) the cover will always be the first thing that captures my attention.  I won't however pick up a book based upon the cover alone–I'll read the blurb and if it instantly captures my attention…then I am hooked.  If not then I will also check out reviews to see what bloggers with similar tastes to mine have thought.
Most of the books that I am reading lately however have come as recommendations from fellow readers or from reading reviews on other sites.  I do a lot less book shelf browsing than I used to before I began blogging due to that fact that my TBR has already increased 10 fold!
This week at Melissa's Eclectic Bookshelf
Weekly Features:  
Reviews:
New Feature:
2012 Witches & Witchcraft Reading Challenge:
Content ©2011-2013 Melissa's Eclectic Bookshelf ~ ~
If you are reading this anywhere other than Melissa's Eclectic Bookshelf, a feed reader, or via email subscription, then this content has been stolen.