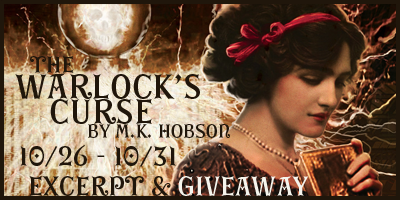 From M.K. Hobson, author of the Nebula award nominated THE NATIVE STAR, comes the newest installment in her Veneficas Americana series–THE WARLOCK'S CURSE.
Welcome to my stop on The Warlock's Curse Teaser Tour! This tour is a short tour of excerpts on six different blogs as well as a giveaway of a full set of M.K. Hobson's books and a Tesla Industries pin.
Make sure you go to the first tour stop to read the excerpt and enter the giveaway and then continue on. As you read each piece in order you'll get a very good idea of what a fantastic book this is! Plus you have 6 different chances of winning all three of her books!
Please note that while it says this is the newest installment in the Veneficas Americana series, this is the first in a new duology. So it's new characters and takes place 30 or so years in the future from the previous books and they do not need to be read first. It's the same world, new characters.
The Tour Stops:

Title:  The Warlock's Curse
Series:  Venificas Americana #3
Author:  M.K. Hobson
Reading Level: Adult
Genre: Fantasy
Release Date: October 31st 2012

THE YEAR IS 1910. Eighteen-year-old Will Edwards has landed a prestigious apprenticeship at Detroit's Tesla Industries, the most advanced scientific research center in the United States. It's a plum prize for a young man who dreams of a career in the new science of Otherwhere Engineering.
But his father doesn't want him to go. And he won't tell him why.
Determined to get there by any means necessary, Will finds unexpected support along the way. His old friend Jenny Hansen—daughter of a San Francisco timber baron—is eager to help him for reasons of her own. And so is his estranged brother Ben, who he hasn't seen in over ten years.
But running away turns out to be the easy part. On the first full moon after his eighteenth birthday, Will is stricken by a powerful magic—a devastating curse laid upon his ancestors by the malevolent sangrimancer Aebedel Cowdray. Will must find a way to control the magic that possesses him—or the vengeful warlock's spirit will destroy everything and everyone he loves.

But things are getting worse for Will. Every night after his work at Tesla Industries, Jenny drives him to  complete a set of schematics for the invention she is patenting on his behalf. And it's not just the hard work that's affecting him—it's five days until the full moon.
That Sunday, Will finished the schematics.
He made the final ink stroke, allowed it to dry, and looked down at the completed pile. He was very proud of them. While working on them, he'd thought through what happened with his prototype, and had come up with several important improvements and design enhancements. He'd even added a fuse. It was a wonderful piece of work.
A work of genius. He'd done it.
It was late afternoon, and he and Jenny were both sitting in their accustomed places at the table in the breakfast nook. Jenny looked tired; her face was drawn and sallow, and not only had the usual curl escaped from her hairpins, but it had been joined by a sinuous tangle of its fellows.
He was just about to tell her the good news when something very strange happened.
A voice spoke in his head.
She's very pretty, Mooncalf.
The sound of it made him nearly jump out of his skin. It was like his own thoughts, but it was also just like when Ma'am would Send for him … clear as spoken words. But it was not Ma'am's voice. It was a man's voice, tinged with a strange, broad accent like some two-bit British actor in a Teslaphone dramaplay.
He rubbed his face, ran his fingers through his hair. He was just tired. Exhausted. God, he was looking 
forward to a good night's sleep.
Jenny glanced at him. "What's wrong?" she asked softly. "Nothing." He smiled. "Everything's perfect. I've finished." Her eyes widened.
"Really?" she said. "You're done? Done done?"
"Done done," he said, pushing the drawings toward her. "They're all yours now."
"Oh Will, how wonderful!" Jumping to her feet, she raced over to hug him, and he hugged her back. He didn't want to let her go. Finishing the schematics meant something else. It meant she was going to leave. And, at that moment, he realized that he didn't want her to.
Flushing, she extracted herself from his arms. "You're tired," she said. "Why don't you get some sleep?"
He nodded. He was tired, so very tired. He walked to his room with heavy steps, his feet leaden and dragging. But just as he was falling asleep, the voice spoke in his head again:
She's leaving you, Mooncalf.
The words made Will's heart race with panic, and suddenly he was wide awake. Rushing into the front room, he saw that it was true. Jenny was gone. He looked in the closet. She'd taken her fur coat.
Rushing back to his room, he looked out the window, and caught a glimpse of something small and fuzzy and brisk sneaking down the back alley.
Throwing on his coat, Will rushed out to follow his wife.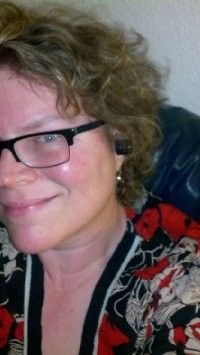 M.K. Hobson's debut novel, THE NATIVE STAR, was nominated for a Nebula Award in 2010. She lives in the first city in the United States incorporated west of the Rockies. Her favorite authors are Theodore Dreiser, Sinclair Lewis, Booth Tarkington, Gore Vidal, and William S. Burroughs. THE WARLOCK'S CURSE is her third novel. You can find out more at her website, www.demimonde.com.

Win a Print set of all three books in the series and a Tesla Pin!! (US/CAN Only)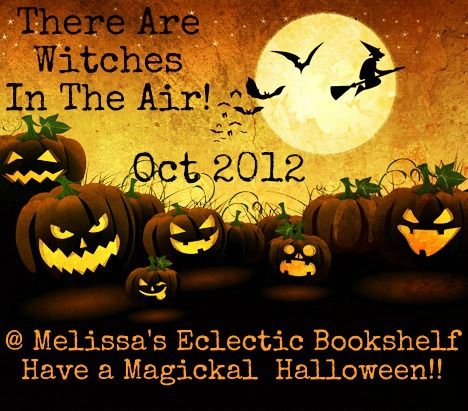 Content ©2011-2013 Melissa's Eclectic Bookshelf ~ ~
If you are reading this anywhere other than Melissa's Eclectic Bookshelf, a feed reader, or via email subscription, then this content has been stolen.