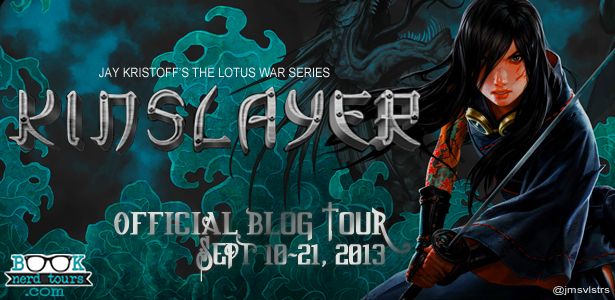 Follow the whole Kinslayer Tour
I am thrilled to welcome Jay Kristoff to Melissa's Eclectic Bookshelf! Let's find out a little more about him as he answers some:  This or That!
And don't forget to scroll all the way down for the giveaway!
This or That
BOOKISH

Fiction or Non-Fiction?   Fiction. Novella or Tome? Tome. One thick enough to beat a burglar to death with.
Cover or Synopsis?   Cover gets you in the door. Synopsis makes you stay.
Bookstore or Library?   Bookstore. Support your local!
Pen or Pencil?   Pen. Pencils are for the meek.
Hardcover or Paperback?   Hardcover, always.
E-book or Audiobook?   Audiobook, if the production is good enough (there's some GREAT audiobooks coming out recently)
Science Fiction or Paranormal?   SF, all the way.
Stand Alone or Series?   Really depends on my mood. I think I'm gonna punk out here and say both can be great.
Bookmarks or Dog Ears?   Dog ears. I know, I know, I'm terrible. Never loan me a book

GENERAL

Light Chocolate or Dark Chocolate?   Light. Dark chocolate, ewwwwwww.
Hugs or Kisses?   Kisses. Unless it's from a blood relative or something, in which case ewwwww.
Drama or Comedy?   Drama. Unless it's the Goodreads kind.
Snow or Sand?   Snow. I've only seen snow a few times in my life. It's kinda like magic to me.
Dragons or Fairies?   Fairies riding dragons. With electric guitars. And machine guns.
Night or Day?   Night. The daystar, it burns usssssss.
Rock or Pop?   Rawk.
Dogs or Cats?  Dogs. Cats are too much like people.
Harry Potter or Twilight?   I've never read/seen Twilight, so I'm going with HP.
Coffee or Tea?   I can't drink either. I'll take a Red Bull instead


The Book
Title: Kinslayer
Series: The Lotus War #2
Author: Jay Kristoff
Age Group: Young Adult
Genre: Fantasy
Pages: 432
Publisher:Thomas Dunne Books
ISBN: 978-1250001412
Publication Date: September 17, 2013
Available Formats: Paperback, E-Book, Audio
Add the book: Goodreads
Buy the book: Amazon | B&N | The Book Depository

Synopsis:
A SHATTERED EMPIRE
The mad Shōgun Yoritomo has been assassinated by the Stormdancer Yukiko, and the threat of civil war looms over the Shima Imperium. The Lotus Guild conspires to renew the nation's broken dynasty and crush the growing rebellion simultaneously – by endorsing a new Shōgun who desires nothing more than to see Yukiko dead.
A DARK LEGACY
Yukiko and the mighty thunder tiger Buruu have been cast in the role of heroes by the Kagé rebellion. But Yukiko herself is blinded by rage over her father's death, and her ability to hear the thoughts of beasts is swelling beyond her power to control. Along with Buruu, Yukiko's anchor is Kin, the rebel Guildsman who helped her escape from Yoritomo's clutches. But Kin has his own secrets, and is haunted by visions of a future he'd rather die than see realized.
A GATHERING STORM
Kagé assassins lurk within the Shōgun's palace, plotting to end the new dynasty before it begins. A waif from Kigen's gutters begins a friendship that could undo the entire empire. A new enemy gathers its strength, readying to push the fracturing Shima imperium into a war it cannot hope to survive. And across raging oceans, amongst islands of black glass, Yukiko and Buruu will face foes no katana or talon can defeat.
The ghosts of a blood-stained past.
Book 1 in the series:
The Author
Jay Kristoff is a Perth-born, Melbourne-based author. His first trilogy, THE LOTUS WAR, was purchased in the three-way auction by US publishing houses in 2011. He is as surprised about it as you are. The first installment, STORMDANCER, is set to be published in September 2012 in the US, UK and Australia.

Jay is 6'7, has approximately 13870 days to live and does not believe in happy endings.

Connect with the Author: Website | Facebook | Twitter






3 Winners will receive a Signed Copy of Kinslayer by Jay Kristoff.
5 Winners will receive a Surprise ART Bookmark by James Vallesteros.
Must be 13+ to Enter
International Giveaway

a Rafflecopter giveaway