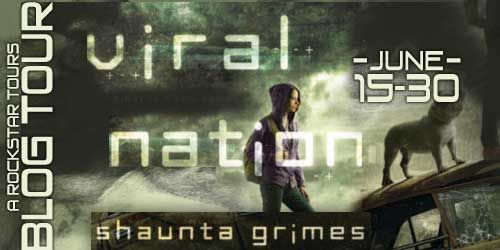 Interview
Please start by telling us a little bit about yourself. 
My name is Shaunta and I'm a story addict. Seriously, stories are my drug of choice. I learned to read when I was three, and I haven't stopped since. I've worked as a teacher, a social worker, I've sold vintage clothes. I was once the newspaper reporter in a town that The Washington Post later named The Armpit of America (the writer who took my place was fired for cooperating with the Post reporter!) I live in Reno with my husband, who deals dice, and we have three fabulous kids. I love to travel, but I love coming home even more.
When did you know that you wanted to write professionally and how did you take the leap to get into the business? 
I married my high school sweetheart when I was 21. Four years later, my marriage fell apart and I was left with two babies and a very broken heart. When I have a broken heart, or I'm otherwise faced with something that feels big and bad, I make lists. So I made a list the weekend after my husband left. Somewhere on that list was "write." Because on just about every list I've ever made was "write." I borrowed a copy of Writer's Market from the library and started pounding out query letters for non-fiction articles that day. On Monday I went to work for my dad, writing legal documents (mostly divorces, ironically.) I started putting together a few clips, and when I saw an ad for a reporter job in the little Northern Nevada town that was eventually named The Armpit of America, I applied. Then I called everyday and made a nuisance of myself until I was finally hired. I started calling myself a writer that day and I never looked back.
Can you tell me a little bit about  Viral Nation and what inspired it?
Viral Nation is a story about a group of misfit kids living in a cracked utopia, fifteen years after a virus has killed most everyone. These kids learn somethings that lead them to accidentally setting off the beginnings of a second American Revolution. I was inspired by a lot of things. There are a lot of post-apocalyptic books out there. I wanted to look at post-post-apocalyptic. What happens if the new world isn't what it looks to be? I was inspired by David Brin's The Postman to think about communication and how that would work in a world without instant, constant connection like we have now. I was inspired by my own kids and my own brothers and sister to write about siblings. I love classic dystopian stories that have a take-away warning about society.
What do you hope that readers take way with them after reading your book? 
I hope they leave the book thinking about things like courage and family, and what it takes to find both when you need them most.
If you were sucked into your own book and had to survive, what fictional character would you want at your side?
Oh, man. If I was Clover, I would say West. Maybe even if I wasn't Clover, I would say West. He's resourceful and clever. He's a natural leader, although he doesn't have much of a chance to learn that until the events of the story start to happen. Really, though, if I was sucked into the world of my book, I'd just want to be a Freak. One of the main points of the story is that these kids need each other. They all have talents and strengths that work together to build something bigger and stronger than any of them on their own.
I find it interesting to know what environment authors find most productive… Do you use a pen and paper or laptop? Quiet room at home or bustling café? Basically, what gets your creative juices flowing?
I write on a computer mostly, although I often take notes with a notebook and pen. I always, always have paper and pen with me. I have eight younger siblings and three kids—I've never not lived in a house full of people. If I required quiet or was super picky about environment, I'd never write anything. My favorite time to write is when I'm at home and my kids are at school. I sometimes write at a cafe near the UNR campus that doesn't have wireless, so I can't get online. I like some background noise, but I can't listen to music when I write. It distracts me too much. I don't write in coffee shops more often because I'm too much of an eavesdropper—I get distracted by the conversations going on around me. At home, I often have the TV on playing reruns of Law & Order because for some reason that just flows by me and keeps me company without disrupting my work. If I'm writing when people are home, I like to be in my bedroom with the door open, so I can hear what's going on and feel a part of what's happening, without it happening right in my face or being responsible for refereeing.
What has been the toughest criticism given to you as an author? What has been the best compliment?
The toughest criticism came from my editor at that first newspaper job. I was his only reporter (and the only reporter in the town), my first day on the job included covering a murder trial, and the sum total of my writing experience included high school creative writing classes, English 101 and 102, an article about dog-friendly Las Vegas hotels and one about telephone date lines. I did my best not to make the same mistake twice, but it was a steep learning curve and I cried a lot the first few months.
I think the best compliments were my agent and editor deciding that my book was good enough to take a chance on. My long-time critique partner (we've been working  together for eight years!) recently read a short story I wrote for a class and wrote me a note about how far I've come from those early days. That meant a lot to me.
Neil Gaiman once left this comment on a blog post I wrote: You are punk rock. That was pretty awesome.
What book is currently on your nightstand? And who are some of your favorite authors?
I just finished reading The Game of Thrones (I know, I know—I'm probably the last person on Earth) and I'm reading The Book Thief now. My favorite authors include Neil Gaiman (come on, he thinks I'm punk rock!), Octavia Butler, Stephen King, Nancy Farmer, Laurie Halse Anderson, James Dashner—wow, I could go on and on with this list.
What do you like to do when you're not writing?
I'm a total movie buff. I write a book and movie review blog with my friend Brian Rowe, so we go usually once a week. I love to read (natch) and spend time where the books are. I have a really fantastic group of writer friends and we get together for Writer's Night Out once or twice a month. I love hanging with my kids and my husband. We barbeque a lot.
What can we expect from you next?
I'm working hard on the sequel to Viral Nation.
Do any animals share your life? Please tell us about them.
We have two cats named Charlie and Angel, a hamster named Bubblegum, and a goldfish we just call The Fish. Someday we'll buy a house, and when we do, I'm definitely going to have a dog. I also really, really want chickens. (My husband thinks I'm crazy and insists that he's not Charles Ingalls. I tell him how cute he'd look in overalls.) 
And now for a little bit of fun:)  This or That? 
Coffee or Tea?   Either, as long as it's cold and sweet. I don't do hot drinks very often.
Sweet or Salty?   Sweet. (Do peanut butter cups count as both?)
Beach or Lake?   Beach.
Winter or Summer?  Summer.
Cats or Dogs?   Cats.
Zombies or Vampires?   Yikes. Can I have one of Christine Feehan's vampire-ish Carpathians?
Country or City?  City.
Morning or Evening?  Morning.
M&Ms or Skittles?  Skittles!
Trains or Planes?  Trains, by a long, long shot. I hate flying.
Comedy or Drama?  Drama with excellent comic relief.
Title: Viral Nation

Publisher: Berkeley trade
ISBN: 978-0425265130
Publication Date: July 2nd 2013
Available Formats: Paperback, E-Book

Synopsis:

After a virus claimed nearly the entire global population, the world changed. The United States splintered into fifty walled cities where the surviving citizens clustered to start over. The Company, which ended the plague by bringing a life-saving vaccine back from the future, controls everything. They ration the scant food and supplies through a lottery system, mandate daily doses of virus suppressant, and even monitor future timelines to stop crimes before they can be committed.

Brilliant but autistic, sixteen-year-old Clover Donovan has always dreamed of studying at the Waverly-Stead Academy. Her brother and caretaker, West, has done everything in his power to make her dream a reality. But Clover's refusal to part with her beloved service dog denies her entry into the school. Instead, she is drafted into the Time Mariners, a team of Company operatives who travel through time to gather news about the future.


When one of Clover's missions reveals that West's life is in danger, the Donovans are shattered. To change West's fate, they'll have to take on the mysterious Company. But as its secrets are revealed, they realize that the Company's rule may not be as benevolent as it seems. In saving her brother, Clover will face a more powerful force than she ever imagined and will team up with a band of fellow misfits and outsiders to incite a revolution that will change their destinies forever.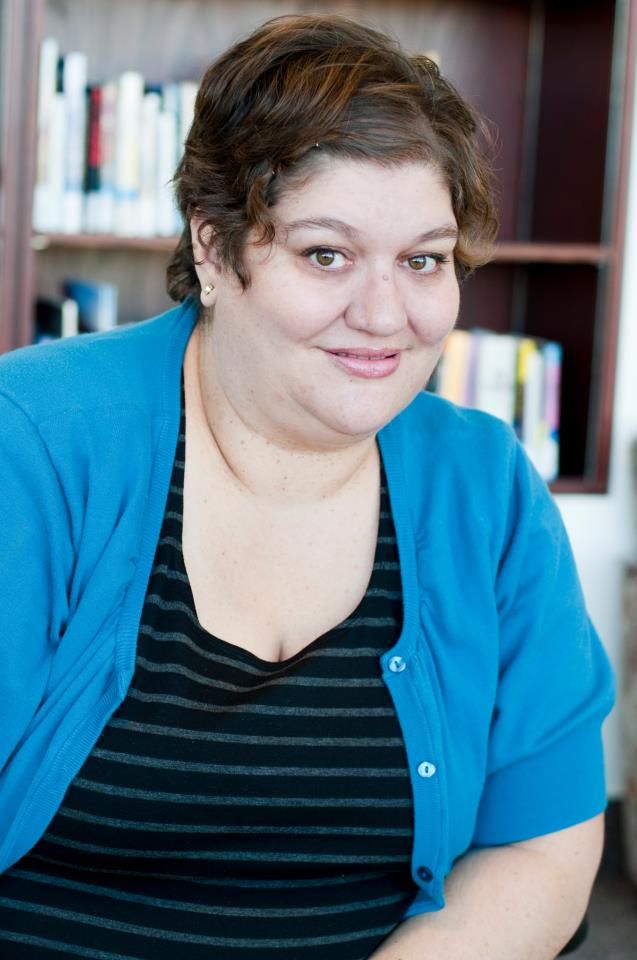 Shaunta Grimes has worked as a substitute teacher, a newspaper reporter, a drug court counselor, and a vintage clothing seller. No matter which direction she strays, however, she always comes back to storytelling. She lives in Reno with her family, where she writes, teaches, and perpetually studies at the University of Nevada. Viral Nation is her debut traditionally-published novel.
Email: shauntagrimes@gmail.com
5 finished copies of Viral Nation US/Canada only
Content ©2011-2013 Melissa's Eclectic Bookshelf ~ ~
If you are reading this anywhere other than Melissa's Eclectic Bookshelf, a feed reader, or via email subscription, then this content has been stolen.