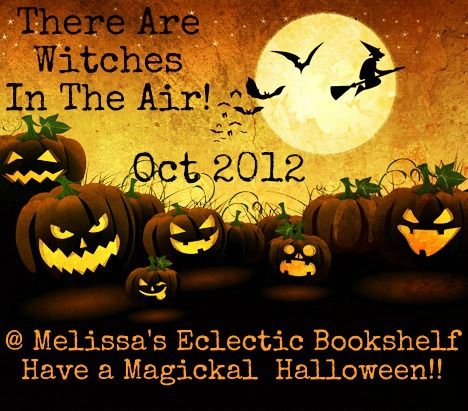 Title: Witches of East End
Series: The Beauchamp Family #1
Author:  Melissa de la Cruz
Reading level:  Adult
Genre:  Paranormal
Size: 272 pages
Release Date: June 21st 2011
Publisher: Hyperion
Source: My personal library
Find It: Goodreads | Amazon | BN | The Book Depository
The three Beauchamp women—Joanna and her daughters Freya and Ingrid—live in North Hampton, out on the tip of Long Island. Their beautiful, mist-shrouded town seems almost stuck in time, and all three women lead seemingly quiet, uneventful existences. But they are harboring a mighty secret—they are powerful witches banned from using their magic. Joanna can resurrect people from the dead and heal the most serious of injuries. Ingrid, her bookish daughter, has the ability to predict the future and weave knots that can solve anything from infertility to infidelity. And finally, there's Freya, the wild child, who has a charm or a potion that can cure most any heartache,

For centuries, all three women have been forced to suppress their abilities. But then Freya, who is about to get married to the wealthy and mysterious Bran Gardiner, finds that her increasingly complicated romantic life makes it more difficult than ever to hide her secret. Soon Ingrid and Joanna confront similar dilemmas, and the Beauchamp women realize they can no longer conceal their true selves. They unearth their wands from the attic, dust off their broomsticks, and begin casting spells on the townspeople. It all seems like a bit of good-natured, innocent magic, but then mysterious, violent attacks begin to plague the town. When a young girl disappears over the Fourth of July weekend, they realize it's time to uncover who and what dark forces are working against them.

I really wanted to love this one! It was my first Melissa de la Cruz read and I devour anything with Witches, but it just fell a little flat to me.  The book was very well written but the pacing felt a bit slow and the plot a bit weak in my opinion. Despite the fact that the POV shifts between the three women, I had trouble making a connection to any of the characters.  I especially found Freya's actions hard to justify and that made her a pretty unlikable character for me.  They honestly seemed more like caricatures of witches rather than "real" witches.  Their powers seemed arbitrary and a bit too easy to be real.  Perhaps if the tone of the novel had been a bit more tongue in cheek, I could have bought the fact that they literally flew on broomsticks etc….  Overall I enjoyed it enough to keep reading (all the while hoping that it would improve) but simply wasn't thrilled with how it developed or how it was semi-resolved at the conclusion. I don't think I will pick up book 2 when it comes out.


3 Stars
Title: Destiny
Series:  Destiny #1
Author:  Laura DeLuca
Reading level: Young Adult
Genre:  Paranormal
Size: 278 pages
Release Date: January 10th 2011
Publisher: Free Focus Publishing
Source: Author in exchange for an honest review
Find It: Goodreads  | Amazon | BN  | The Book Depository 
Gabriella is a witch. The problem is, she doesn't remember. She repressed the memories of her powers years ago when her mother was murdered. Now, the warlock who was responsible for her mother's death has set his sights on Gabriella. He is determined to use her fear to turn her to the dark side of magick…even if it kills her. Her mother's spirit is reaching out to warn her, but even that she pushes away. Desperate to save her daughter, the spirit finds a male witch–one that just happens to be in love with Gabriella. Darron is more than willing to help but the two young witches will have way more to battle than just an evil warlock. There are overbearing jocks and petty rich girls who get tempers flaring and often set Gabrielle and Darron at odds. 

There is more to the story than Gabrielle and Darron could even imagine. There are terrible secrets to be revealed, battles to be waged, and lives will be lost. Only after Gabrielle and Darron both come to terms with who they really are, and open themselves up to the true meaning of magick, can they have any hope of fulfilling their destiny.

Destiny was a very pleasant read.  I enjoyed the characters of Gabriella and Darron though I feel they were  written a bit young for me to actually connect with them.  I don't have a whole lot to say about this one…I think that this book did seem to be geared toward a younger YA audience and perhaps because of that it was enjoyable but not exactly my cup of tea. I think that it could do with a bit of polishing but the story was  very promising.  It doesn't take itself too seriously and for that reason, I feel that Laura DeLuca does a pretty good job of pulling off the magickal elements. It was also suspenseful and action filled at all the right places to keep the reader engaged and pushing to the finish line.


3 Stars
Title: The Familial Witch
Author:  Bri Clark
Reading level: Adult
Genre:  Paranormal Romance
Size: 42 pages (Novella)
Release Date: January 31st 2011
Publisher: Astraea Press
Source: Author during Blog Tour
Find It: Goodreads  | Amazon
Lucien Lemione the clan leader of the feared and revered Eternals is faced with the ultimate betrayal. His second in command for two centuries has not only created the most grievous of offenses but also commissioned the creation of liquid silver. When poisoned by this toxin, an immortal suffers a fate much worse than death, frozen in an internal prison. After being wounded when found spying, he hides deep within the eerie woods that encircle the Triad Mountains. Desperate and in pain, he prays to an offended mother goddess for help. Her answer: a woman, but not just any woman. A witch.

After losing her entire coven at the hands of the Eternals, Aisleen is the last of her kind. She retreats from the world to Trinity Forest where she is giving the opportunity of a lifetime, or perhaps a test of principles. It's there she discovers the man she heals is the Eternal that wiped out her people. Although she is bound as a healer, she could be creative in her revenge. Aisleen knows who and what Lucien his…but does not speak of it. There can be no future with Lucien for she can only be with a mortal man. Even if she wanted to be with him, can she forgive the man that caused the genocide of her people?

Lucien must act quickly for the survival of his clan is at stake. However, Aisleen's ethereal beauty and emerald eyes keep pushing those thoughts far from his mind. Determined to find out what secret she hides, he prolongs his time with her. When his people need him most what will he choose…duty, desire, or will he make his own fate?

You can choose love but you can't choose destiny.

I absolutely loved the lush descriptives that Bri Clark uses in this novella. I could completely picture the woods and the characters that make up this short tale. I loved the aspects of earth magic and healing that made up Aisleen's person but unfortunately the plot and the character development fell short for me. The romance seemed too similar to insta-love and the conclusion felt a bit too abrupt and it left too many questions for my taste.  All in all: Beautifully descriptive but lacking in substance.


1 Star
Content ©2011-2013 Melissa's Eclectic Bookshelf ~ ~
If you are reading this anywhere other than Melissa's Eclectic Bookshelf, a feed reader, or via email subscription, then this content has been stolen.